1999-2000 Arnold Isaacson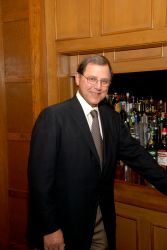 When I assumed the Presidency of The Lord Reading Law Society, although each President before me did much to insure its vibrancy and prestige, I found that the sense of pride and enthusiasm seemed to have waned and the membership had dropped off over the years. Funds for running it were non existent and I was concerned for its future and I felt that we needed to give it a shot in the arm. With the help of a very enthusiastic executive we set about to introduce a number of changes to try and infuse a new vibrancy which would bring back the society to its former glory and to get renewed interest by our many distinguished members.
The changes that were instituted were as follows:
We created a newsletter to keep our members in touch and aware of the latest legal news and to encourage the members participation in submitting articles. This newsletter has become a resounding success and is even sought after by all members of the judiciary. In my opinion this made our members quite proud of our society.
We instituted study sessions for our members to participate with various experts in the field to discuss various areas of the law. This created renewed interest.
We created a society pin which gave our members pride of membership and reestablished our uniqueness
We discussed creating an internet site so that we could show our existence to all other legal entities and to be able to communicate with our members and other legal societies for an interchange of ideas around the world. Although this idea germinated in my time it came to fruition after my term in office
The question of lack of funds which persisted for many years was finally resolved through the initiation of sponsorship programs, so that we would always be assured that our treasurer Larry Glazer would never again have to worry about the constant deficit that we faced .This program has become a huge source of income for us through the advertisements in our newsletter and sponsorships for our monthly meetings by various law firms and other businesses related to our field This has taken pressure off our financial plight   ensuring a viable organization.
Aside from the excellent speakers we furnished for our monthly meetings from distinguished judges to visiting professors from abroad we encouraged participation by making sure that all members were aware of our meetings by constant telephoning and of course our newsletter.
All these innovations and the sudden resurgence of our popularity gave me great satisfaction. But none more than this final word on my term.
In the early 80's, when I was President of Jewish Family Services and chair of the Notarial Division of Combined Jewish Appeal, I prevailed upon The Lord Reading to include amongst its members, those Jews practicing law in the notarial profession, Therefore, my greatest joy was when I was asked to be the first Notary in 50 years to be the president of The Lord Reading Law Society
I want to thank my executive and members of the society for giving me the support that was needed to implement these changes and in so doing to give the boost it needed to return to its past glory, the one the founding members envisioned
I wish much success to all future presidents-that they should go from strength to strength.