2002-2003 Ian Solloway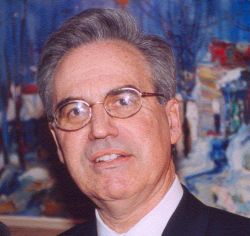 In recognition of the 20th Anniversary of the Canadian Charter of Rights and Freedoms, the Society decides to forego honouring an individual with its Human Rights Award, but rather to pay tribute to the Charter itself. The Right Honourable Beverley McLachlin, Chief Justice of Canada delivers the Society's Human Rights Lecture "Celebrating the Canadian Charter of Rights and Freedoms-A Twenty Year Retrospective". The evening attracts one of the largest attendances ever for a Society event and marks the first time in the history of the Society that a sitting Chief Justice of the Supreme Court has addressed our membership.
The Society tenders a roast for the Honourable Pierre A. Michaud, attracting another overflow attendance in tribute to the former Chief Justice of Quebec. The Society confers an Honourary life membership upon Pierre A. Michaud, in the words of President, Ian M. Solloway, "as a mark of our admiration and esteem for a jurist of a highest standard, who has been a true and abiding friend of the Society over the years".
Pierre Michaud joins the Honourable Madame Justice Rosalie Abella and the Honourable Laurence A. Poitras as the only other honourary life members of the Society. The year ends with Mr. Clayton Ruby, one of Canada's most prominent trial lawyers as the Society's guest speaker.
Ian M. Solloway presents the Society's Past-President's Medal to the Honourable Irving Halperin, in recognition of the excellence he has achieved in the legal profession and the significant contribution of service to the community.
The Society's membership, attendance and sponsorships are at record levels.