Dinner-Meeting
Specific Title:
Speaker: Maître Arielle Meloul-Wechsler
Event Description:
A Lawyer's View from the Sky
Date/Time:
Thursday, December 6, 2018, 06:15 PM
Location
Shaar Hashomayim Synagogue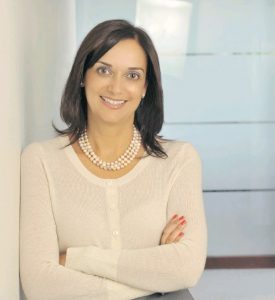 Can a lawyer help change the corporate culture of one of Canada's more traditional employers? Me Arielle Meloul-Wechsler, Senior VP of People, Culture & Communications at Air Canada, believes you can. And she's proving it!
Please join us as we trace Me Meloul-Wechsler's incredible journey from in-house lawyer to corporate strategist, as Me Meloul-Wechsler regales us with her talk, A Lawyer's View from the Sky.
Me Meloul-Wechsler was appointed Senior Vice President, People and Culture in May 2017, responsible for overall leadership for human resources, labour relations, communications, and culture change initiatives across the company. A member of the executive team since September 2013, she was previously Senior Director and then Vice President, Human Resources. Prior to that, she was Assistant General Counsel where her practice groups included corporate financings, reorganizations, and M&A transactions.
The dinner-meeting has been approved  for one hour of CLE accreditation from the Barreau du Québec. In addition, this event is eligible for continuing education credit pursuant to the rules of the Chambre des notaires du Québec.
Special thanks to Kugler Kandestin for their generous support of the evening.
We look forward to seeing you on December 6th!
Please reserve your place(s) using the form below. If you have any issues please contact info@lordreading.org.
Bookings
The event is already full. Bookings are closed for this event.