Student Dinner 2019
Specific Title: Student Dinner 2019
Speaker: The Honourable Suzanne Côté
Event Description:
Building your practice as a young litigator
Date/Time:
Thursday, January 31, 2019, 06:15 PM
Location
Shaar Hashomayim Synagogue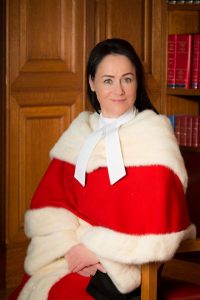 After a long and distinguished career as a litigator, The Honourable Suzanne Côté was appointed to the Supreme Court of Canada on December 1, 2014. We are delighted that she will be sharing her experiences as both a litigator and Supreme Court Justice in her talk that will be tailored to the students and stagiaires in attendance at our Annual Student Dinner.
In addition to Justice Côté's talk, we look forward to presenting our student awards to deserving individuals from law faculties around the province. We are also pleased that Sonia Lebel, Quebec's Justice Minister, will be joining us to present the Prix du Ministre de la justice – Lord Reading Awards. We will also be celebrating the life of the late Michael Stober, j.c.s.
We expect to be approved for one hour of CLE accreditation from the Barreau du Québec shortly. In addition, this event is eligible for continuing education credit pursuant to the rules of the Chambre des notaires du Québec.
Special thanks to Osler for their generous support of the evening.
We look forward to seeing you on January 31st!
Please note that reservations for the evening are now closed
Bookings
Registration for this event is closed. Thank you for your understanding.