NEWSLETTER – April 2016
Steven Slimovitch, President
Allen Mendelsohn and Larry Markowitz, Editor(s)
President's Message
Steven Slimovitch
Dear Colleagues and Honourable Judges,
On March 17th, our former Bâtonnier, now justice at the Supreme Court, the Honourable Richard Wagner once again delivered a stellar performance.  He had us all at the edge of our seats, and we thank him for a wonderful evening.
What we can look forward to:
On April 6th, we will host another prominent orator, the Dean of the Law Faculty at McGill University, Professor Daniel Jutras, who will surely enlighten the Society with his words of wisdom. His talk is entitled "You too can be a senator! Canada's new process for Senate appointments". Professor Jutras is uniquely qualified to speak on this topic, as he was recently named a federal member of the Independent Advisory Board for Senate Appointments by the Honourable Maryam Monsef, Minister of Democratic Institutions.
You can sign up for the dinner using the links at the left of this page. Don't forget that the early-bird discount expires on April 1st, 2016.
Then, following the Passover break, on May 25th, we have a most special treat in store: Our Annual Human Rights Dinner will feature a tribute to one of the most esteemed jurists in Canada, a cherished member of the mishpacha, the Honourable Irwin Cotler. The night promises to be a smashing success. Confirmed speakers include Harvard Law Professor Alan M. Dershowitz, Canadian Supreme Court Justice Rosalie Abella and Quebec Court of Appeals Justice Nicholas Kasirer. More details about the evening can be found further down in this newsletter.
Finally, be sure not to miss the annual Young Bar Cocktail on June 9.  It will be held on a (hopefully) sunny outdoor terrace.  That event will be organized by Marissa Lydynia & Andrew Kliger.
I look forward to seeing you on April 6th.
Steven Slimovitch, President
From the Bar to the Bench: An Evening with Supreme Court Justice Richard Wagner
David Ettedgui
On March 17th, the Society was treated to an evening of candour, humour and anecdotes as Justice Wagner described his ascension from Montreal construction litigator to Supreme Court justice.
He was introduced by the Chief Justice of Quebec, Justice Nicole Duval-Hesler, a former colleague of Justice Wagner – both at Superior Court and the Court of Appeal. She praised Justice Wagner for his immense contribution to the Court of Appeal and recalled her discussion with Chief Justice of Canada Beverley McLachlin shortly after his nomination wherein Justice Duval-Hesler stated, "Your gain is our loss."
Prior to being named to the Superior Court, Justice Wagner specialized in construction litigation at Lavery, de Billy. He remarked that career advancement comes in many forms and quipped that he was appointed to the Superior Court only a couple of weeks after making a hole-in-one on the golf course!
Justice Wagner also drew on a few stark differences between the Supreme Court of Canada and that of the United States, namely the robes worn by the justices of the court, and on a more serious note, the climate of Washington D.C. versus that in Ottawa, and the contrasting appointment processes.
Throughout his remarks, Justice Wagner regaled the Society with tales of the "perks" of being a judge at the Supreme Court, such as filling in as the Governor General's replacement in his absence and knowing he faces no risk that his decisions will be overturned!
Above all, he noted the three pillars that have served as the foundation of his career as a litigator and a judge: Curiosity, Creativity and Integrity.
He explained that curiosity pushes the law into new areas, drives lawyers to discover all facets of the file and helps judges delve into areas of the law they never experienced as practitioners. Although our practice too often rewards us for maintaining the status quo, creativity helps us stay relevant and solve new societal problems as they arise.
Finally, acting with integrity, honour and moral fortitude helps craft a "fairer and more just society for all Canadians."
Justice Wagner's entertaining and informative presentation left each of us at Lord Reading a bit more curious and creative, and reinforced our pride as jurists who contribute to making Canada a just society.
A Very Special Evening – The Annual Human Rights Lecture with Irwin Cotler
We are excited to announce that The Lord Reading Law Society's Annual Human Rights Lecture, held on Wednesday, May 25, 2016, will pay tribute to The Honourable Irwin Cotler, PC, OC, former Minister of Justice and Attorney General of Canada, longtime Member of Parliament for Mount Royal, longtime professor of law at McGill University and human rights champion of worldwide renown. 
We are pleased to announce that Madam Justice Rosalie Abella of the Supreme Court of Canada, Mr. Justice Nicholas Kasirer of the Quebec Court of Appeal and Professor Alan M. Dershowitz of Harvard University will be speaking in tribute to Minister Cotler. Society Past Presidents Casper Bloom and Ted Goloff are co-chairs of the event and Past President Raphael Schachter will act as master of ceremonies.
A portion of the evening's proceeds will be donated by the Society to the Raoul Wallenberg Centre for Human Rights, a new human rights organization helmed by Minister Cotler.
Registration for the evening will open online on the Lord Reading website following next week's dinner-meeting featuring Dean Jutras. For those who normally wait until the last minute to sign up for Society dinners, might we suggest that you change your habit this one time, as the event is expected to sell out quickly. Please note that for this special occasion there will be no early bird discounts.
Finally, there are unique sponsorship opportunities for the evening, and the opportunity to purchase a table for your firm or other group. Your support will help the important work of the Raoul Wallenberg Centre for Human Rights. If you would like to participate as a sponsor for the evening or reserve a table, please contact our event coordinator Angela Lehrer Vineberg at cotlergala@lordreading.org.
A Lifetime Achievement Award for a Society Past President
Allen Mendelsohn
On March 22nd, a veritable who's who of the Montreal legal community gathered to pay tribute to Society Past President Me Casper M. Bloom, Q.C., Ad.E. Me Bloom was honoured by the English-Speaking Section of the Bar of Montreal with its Lifetime Achievement Award, for his extensive and unique contribution to the legal profession. This award is presented from time to time to a worthy recipient who, throughout their career, has demonstrated excellence in the profession, outstanding leadership in and service to the legal profession and has contributed to the enhancement of the image of the profession.
A most deserving winner, Me Bloom was lauded by colleagues, including his long-time partner at Ogilvy Renault (now Norton Rose Fulbright) John Coleman, who regaled the crowd with a series of amusing and heartwarming anecdotes about Me Bloom. With accomplishments too numerous to mention here, luminaries including former Prime Ministers of Canada sent letters of congratulations which were read aloud. Visibly moved, Me Bloom graciously accepted his award from the President of the Section – and LRLS Past President – Ian M. Solloway.
Me Bloom's remarks were poignant and heartfelt. He highlighted the work he undertook to lead the two decades effort to properly translate the Civil Code of Québec, with some amusing examples of some of the worst translations in the original 1994 text. He then took the opportunity to remind the crowd of the importance of proper English versions of Québec laws (for example of the new Code of Civil Procedure, where there is still much work to be done) and of judgments of the Québec Court of Appeal, so that they might find the wider audience they deserve.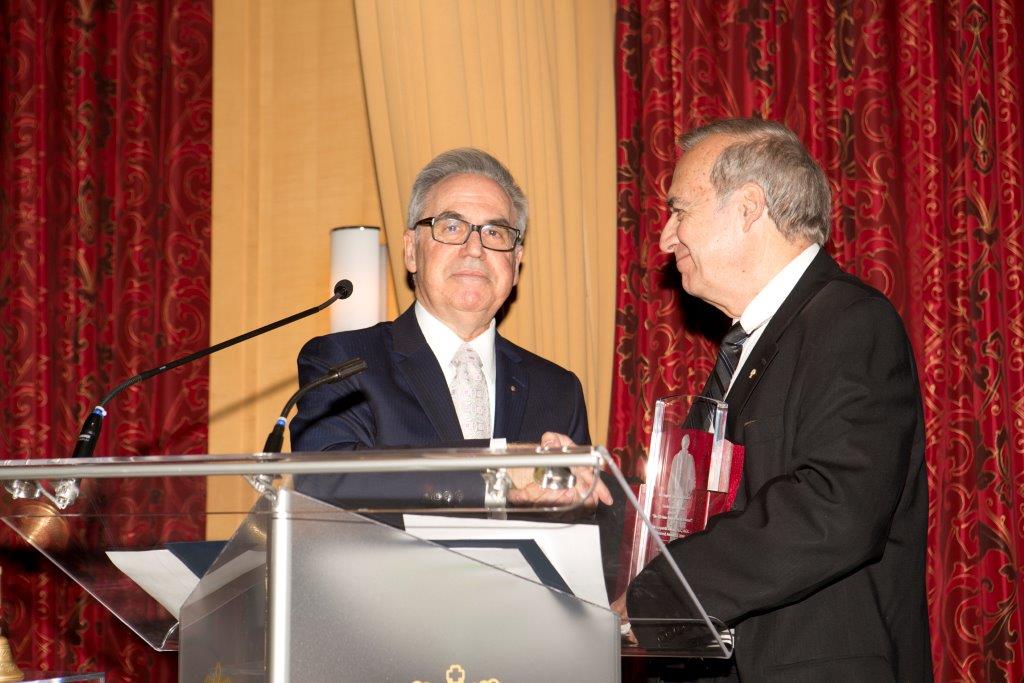 Ian Solloway presents the Bar of Montreal English-Speaking Section's Lifetime Achievement Award to Casper Bloom
The Society congratulates Me Bloom on his award. You can read the official letter of  congratulations from President Steven Slimovitch here.
Society Humour – Special Passover Edition
A British Jew is waiting in line to be knighted by the Queen. He is to kneel in front of her and recite a sentence in Latin when she taps him on the shoulders with her sword.
However, when his turn comes, he panics in the excitement of the moment and forgets the Latin.  Then, thinking fast, he recites the only other sentence he knows in a foreign language, which he remembers from the Passover seder:
"Ma nishtana ha layla ha zeh mi kol ha laylot."
Puzzled, Her Majesty turns to her advisor and whispers, "Why is this knight different from all other knights?"
News from the Mishpuchah
Mazel Tov
To Society President Ian M.Solloway on being re-elected to an 8th consecutive term as Chair of the English-Speaking Section of the Bar of Montreal at the Annual General Meeting of the Section held on March 22nd
Condolences
To Society members Lynn Casgrain and Julius Grey on the loss of their mother and mother-in-law