NEWSLETTER – March 2015
Nancy Cleman, President
Allen Mendelsohn and Larry Markowitz, Editor(s)
President's Message
Nancy Cleman
Dear Honourable Judges and Colleagues,
The Lord Reading Law Society's Annual Student Dinner was a resounding success. Me Raphaël Schachter spoke to us on how to represent the high profile client. His talk provided useful tips that we can all use in our practice. Please read Larry's summary below for all the details.
Our annual Henry Steinberg Memorial Lecture will take place on March 9, 2015 when we will welcome The Honourable Madam Justice Andromache Karakatsanis of the Supreme Court of Canada, whose topic is "That's how the light gets in: Reflections on the rule of law". We are extremely honoured that Justice Karakatsanis found the time in her busy schedule to address us. This promises to be a very interesting and engaging evening and I sincerely hope that you will join us. We have offered dinner reservations to law students at a reduced rate and we look forward to continuing to host law students on a regular basis. The lecture has been approved by the Barreau du Québec for 1 hour of CLE accreditation.
Special thanks to our generous sponsor for the evening, BLG.
This has been a busy month for the Society. On March 3, 2015 we hosted a breakfast meeting at Robinson Sheppard Shapiro. Our speaker was Professor Daphne Richemond-Barak who spoke on the topic of "International Law – does it matter?". She was introduced by Michal Cotler-Wunsh, Adv., Director of International External Relations at the Interdisciplinary Center (IDC) in Herzliya, Israel.
The Society has two more dinner-meetings scheduled this year, and we invite you to mark the following dates in your calendar. On April 16 we will host a lecture on forensic data and evidence, with guest speakers Corey Bloom and Iain Kenny of the accounting firm MNP. On June 16 we will hold our Annual Human Rights Lecture when our speaker will be Jacques Frémont, President of Québec's Commission des droits de la personne et des droits de la jeunesse.
Finally, I am pleased to announce that the Society's Past President's Medal will be awarded to Past President Theodore Goloff for his tireless efforts on the Society's behalf and in particular for his recent work in the area of human rights. Congratulations Ted!
I look forward to seeing all of you on March 9th.
Sincerely,
Nancy Cleman
President
Raphaël Schachter: Representing the High-profile Client
Larry Markowitz
In a sometime-humorous, sometime-serious, but always anecdote-filled discourse, prominent local criminal defence counsel and former Lord Reading Law Society President Raphaël Schachter shared with us the lessons he's learned over his many years of "Representing the High-Profile Client".
This being the Society's annual Student and Stagiaire dinner, Me Schachter took it upon himself to remind the next generation of lawyers that regardless of how high-profile their clients might be, they mustn't forget that "the most high-profile client of all is the rule of law". In fulfilling our role as counsel, we have the opportunity to show that ours is a noble profession. "Proceed truthfully and honourably", Me Schachter reminded us.
Me Schachter dedicated his January 28th speech to the memory of his dear friend and inspiration, the recently deceased prominent criminal defence counsel Edward Greenspan. Mr. Greenspan, who graced the Society's tribune on more than one occasion, had no hesitation to come to Montreal to speak, "as long as we [went] to Schwartzs!"
Me Schachter harkened back to the early days of his career, when he worked as a prosecutor, recounting his discomfort with the role he was asked to fill when Prime Minister Pierre Trudeau invoked the War Measures Act. He refused to act on that file once he saw how this controversial law was being applied in a haphazard manner.
Before launching into a series of anecdotes from his career, our guest speaker shared with us two basic principles of representing the high-profile client: 1) respect the client's privacy; and 2) notwithstanding their high-profile, these clients are "just people".
Other than this brief "theoretical" interlude, the entertaining speech was short on legal theory, but long on tales of yore. "We're here to chill" began Me Schachter …
Citing the time he represented the "son of a former prime minister", Me Schachter gave us advice on how to deal with the press:
If I speak to the media, will it benefit my client?
If speaking to the media would be beneficial to the client, counsel should have a script prepared and should not divert from that script, regardless of the questions posed by reporters. It is essential to control the message.
In any event, our guest speaker reminded us, if you're not in the courtroom, you're in no position to judge based solely on what you read about the case in the media.
Me Schachter then delved into the story of a private school student he represented, who had stabbed her victim 28 times. (This gory tale might not have been ideal for a Lord Reading dinner audience that still hadn't eaten its main course …). In the end, his client was acquitted. The court found that the stab wounds had been inflicted in self-defence. Had the case been tried in the media, the idea of self-defence would have seen "laughable", said Me Schachter.
While the high-profile client is "just a person", sometimes their tendency towards giving orders, rather than taking orders, shines through. In such instances, the client will start questioning defence counsel's strategy and dictating a new approach of the client's own choosing. It is at moments like these that defence counsel needs to read the riot act to the client:
When you came to me, you were in dire straits and you relied upon me to extricate you. But now we have a serious dilemma – a serious problem of communication. You've come to the point of believing your own bulls**t!
At this point, our guest speaker went into full name-dropping mode with the story of how a 28-year-old model named Ivana Winklmayr arrived in his office one day "looking like Bo Derek". She showed Me Schachter a copy of the New York Times with a photo of Donald Trump on the page, telling Me Schachter that she intended to marry this gentleman and asking whether the proposed prenuptial agreement was appropriate.
Several years later, when the Trumps were in the midst of a bitter divorce, "The Donald" sent a lawyer to snoop through Me Schachter's files in respect of the prenuptial agreement. Me Schachter refused him access to the file. The Donald was not happy …
Next, referring to himself as the "Original Rock n' Roller", Me Schachter proudly informed us that he is the lawyer of the Rolling Stones … when they are in Montreal. This privileged role pays him zero legal fees, but does come with free concert tickets for excellent seats, plus backstage passes.
Once when he showed up to the Stones' Old Montreal hotel to pick up his credentials for the concert, the bouncers wouldn't let him in, thinking he was some sort of deluded groupie. But Me Schachter insisted he was "the lawyer of the Rolling Stones". Once his story checked out, the bouncer changed his tone 180-degrees and Me Schachter walked into the hotel "with the strut and swagger befitting the 'lawyer of the Rolling Stones'" (Sounds like Me Schachter has the 'moves like Jagger'!)
In his concluding remarks, which he addressed primarily to the students and young lawyers in the Lord Reading audience, Me Schachter advised us that whether we represent the high-profile client or the homeless, in order for our democratic system to survive, in the immortal words of Pope Paul VI, we must "work for justice" and in biblical terms, "Tzedek tzedek Tirdof" ("Justice justice must you pursue").
Mazel Tov to the Lord Reading Student Award Winners!
Allen Mendelsohn
The Society congratulates the students who were presented with the Lord Reading student awards as part of the Annual Student Dinner. The Society is pleased to support students at all Montreal-area law faculties.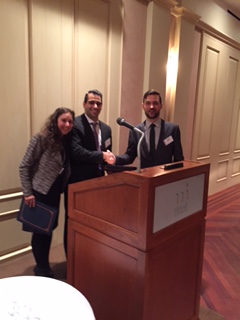 From left to right – Society Young Bar Chairs Marissa Lydynia and David Ettedgui present the McGill student award to Fraser Harland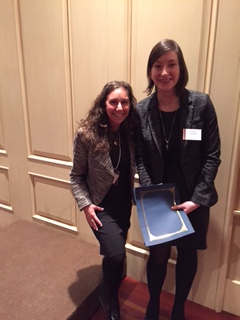 Marissa Lydynia with Université de Montréal student prize winner Emilie Lanteigne
Entering your Lord Reading CLE Credits on the Barreau Website
Larry Markowitz, Hershie Frankel, and Allen Mendelsohn
The Society wishes to ensure that you are properly credited with your Continuing Legal Education from Lord Reading events. April 30, 2015 is the deadline to register your CLE hours in your online mandatory continuing education record, and it is rapidly approaching! We remind you that you must have taken 30 hours of recognized CLE training during the period that runs from April 1, 2013 to March 31, 2015.
To enter Lord Reading training activities in which you participated, log into your "training statement" at: https://www.barreau.qc.ca/dossier-fco/
Click on "Ajouter une activité de formation".
Search for "Lord Reading". All of our past events since April 2013 will appear.
Click on each event you wish to add to your file, then click on "+ Ajouter". The changes are saved automatically.
For some older events (circa 2013), if the particular dinner event does not appear, don't fret!  Simply choose "Formations exclusivement réservées aux avocats à l'emploi de Lord Reading Law Society et aux participants invités.  Dispensée par «Lord Reading Law Society»." and indicate the number of hours using the drop-down menus that will appear.
If you are having problems accessing or completing the form, please visit the FAQ on the Barreau website or contact the Barreau by calling 514-954-3460, option 2. Or see the following document: http://www.barreau.qc.ca/pdf/formation/info-dossier-fco.pdf
Be sure to keep a copy of all CLE certificates in your files for at least the next 5 years in case you are inspected by the Barreau.
The Society is proud to help you fulfill your CLE obligations, and we look forward to doing so for many years to come.
Upcoming Barreau Events
Allen Mendelsohn
The Society is pleased to direct our members and friends to Barreau events that may be of interest.
On March 19, 2015 the Jeune Barreau de Montréal is offering a wonderful and informative program entitled "Forum sur le Demarrage et la Gestion d'un Cabinet." The event is followed by a cocktail, and is approved for 4.5 hours of CLE credits. More information and online registration can be found on the AJBM website.
Society Humour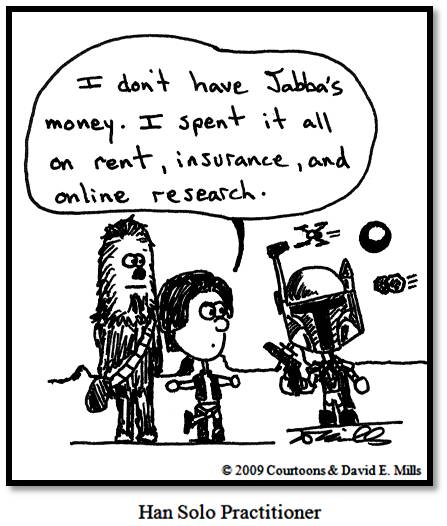 News from the Mishpuchah
Mazel Tov
To Society Past President Ian M. Solloway who will be awarded the Mérite du Barreau at the AGM of the Barreau de Montréal at 5:30 PM on May 6th in Salle 5.15 (Salle Jules Deschênes) of the Montreal Courthouse
To Society Board member Julie Schlesinger on the birth of her son Oliver, and grandson to Society Board member Frank Schlesinger
To Society Board member Tibor Holländer and Michael Hollander on the birth of their granddaughter and daughter
Condolences
To Society Second Vice-President Larry Markowitz on the loss of his father Jack
To Society Past President Raphaël Schachter on the loss of his mother-in-law Neri Bloomfield
To Society Board member Eric Maldoff on the loss of his brother-in-law