NEWSLETTER – June 2015
Nancy Cleman, President
Allen Mendelsohn and Larry Markowitz, Editor(s)
President's Message
Nancy Cleman
Dear Colleagues, Honourable Judges and Friends,
As my term comes to an end, I am surprised how quickly it has passed. It has been an honour and a pleasure to serve as your President. The raison d'être of the Society remains as relevant today as when it was founded 66 years ago, and it has been my privilege to continue its tradition and hard work.
The Society is making a concerted effort to preserve its history for future generations. I am pleased to announce that the Lord Reading Law Society exhibit will be launched this month as part of the Interactive Jewish Museum of Montreal. The exhibit will recount the Society's history and accomplishments, and will also have links to both our website and the Lord Reading archives at the Canadian Jewish Congress Foundation.
In the same historical vein, we continue to assist the Faculty of Law of the Université de Montréal in reaching out to its Jewish alumni for anecdotal information for the Faculty of Law's upcoming book documenting the history of the Jewish community within the Faculty.
Our programming committee organized an excellent lineup of speakers this season, and the final lecture is no exception. The June 16th lecture will be delivered by Jacques Frémont, President of the Quebec Human Rights Commission. During the evening we will honour Theodore Goloff with the Past Presidents' Medal in recognition of all the work he has done in the area of human rights matters in general and in particular with respect to the brief filed by the Society on the Québec Charter of Values, as well as his numerous other accomplishments. You may sign up for the evening using the links found on the left of this page. We are grateful to the evening's generous sponsor, Robinson Sheppard Shapiro.
The Society continues to grow and look toward the future. Once again, the Young Bar cocktail event was a great success. We thank Richter for their generous sponsorship of the event. We understand that the current economic situation for young lawyers is difficult; we are here to support them. As part of our effort to welcome new lawyers and notaries to the Society, we continue to offer free membership to lawyers and notaries for the year following their call to the Bar or the Chambre des Notaires – please spread the word!
I wish to extend my sincere thanks to the Society's Board, Executive, Past Presidents, committee members and volunteers for their hard work and dedication. The incoming President will be inaugurated on June 16th, please join us for what promises to be a wonderful evening. I look forward to seeing you there.
Sincerely,
Nancy Cleman
The Evolution of Computer Forensics and E-Discovery in Litigation
Larry Markowitz
Our April 16th dinner featured a practical and entertaining talk by MNP forensic accounting specialists Corey Bloom and Iain Kenny entitled "The Evolution of Computer Forensics and e Discovery in Litigation".
As lawyers and their clients spend more and more of their workdays online, it has become more and more important that lawyers understand both the legal rules and the technology surrounding electronically stored information – regardless of the area of law in which they practise.
Electronically-stored Information
In fact, being aware of the technology surrounding electronically-stored information, or ESI, may be even more important than understanding the applicable laws. For instance, while it is clear to most people that ESI may be found on a computer's disk drive or on a USB key, it is not as widely known that modern photocopiers also contain a hard-drive through which passes scanned copies of all documents that are reproduced.  Modern automobiles contain data recorders that can be used to analyze factors surrounding an automobile accident. And let's not forget the car's GPS, which records its owner's location (which is data can prove useful in matrimonial cases!)
All such sources of ESI are susceptible to being subpoenaed and their data analyzed and submitted as evidence in court.
But what are the rules surrounding the conduct of e-discovery? How is data to be collected, analyzed and, finally, produced in court?
The Sedona Principles comprise the state of art in this field.  This set of 14 "best practices, recommendations and principles" was developed by members of the Sedona Conference, a non-partisan law and policy think tank, in order to apply the basic principles of discovery to the new medium of ESI. They are intended to address the entire range of e-discovery issues that may arise.
Most important are points 1, 3, 11 and 12:
1. Electronically stored information is potentially discoverable. Organizations must properly preserve electronically stored information that can reasonably be anticipated to be relevant to litigation.

3. Parties should confer early in discovery regarding the preservation and production of electronically stored information when these matters are at issue in the litigation and seek to agree on the scope of each party's rights and responsibilities.

11. A responding party may satisfy its good faith obligation to preserve and produce relevant electronically stored information by using electronic tools and processes, such as data sampling, searching, or the use of selection criteria, to identify data reasonably likely to contain relevant information.

13.  Absent a specific objection, party agreement or court order, the reasonable costs of retrieving and reviewing electronically stored information should be borne by the responding party, unless the information sought is not reasonably available to the responding party in the ordinary course of business.
Computer Forensics
Computer forensics, which differs from e-discovery, uses technological fixes to recover remnants of partially deleted data on unallocated sectors of a disk drive. It's more investigative. The forensic accountant is essentially seeking a "smoking gun".
Emergent Technologies
In addition to the data storage technologies discussed above, new emergent technologies are coming onboard at breakneck speed.
Today, nearly everyone has a smartphone with huge data capacity that they carry with them during every waking hour, which leaves quite the data trail. In fact, it is estimated that 18-to-24 year olds spend the equivalent of a whole week of each month playing on their smartphones!
Moreover, much data is now stored in the "cloud", which is comprised of numerous servers located in disparate locations. Nowadays, a single computer file might be split into several components and stored in servers located in several countries. This raises jurisdictional issues when e-discovery is being conducted. The evidentiary and privacy laws of more than one country may apply. If data is on a US server, could the US Patriot Act apply?
Modern web browsers allow users to browse "incognito", so past Google searches and the like are no longer readily available if the user wants to their browsing history.
Smartphones can be wiped clean, but then the data might be automatically repopulated from backup data synced to the device from the cloud. BlackBerry devices send encrypted messages.
All of this rapid technological change is making the lives of forensic accountants – such as our guest speakers – more difficult!
As lawyers, we need to be aware of the potential impacts of technology.  In their informative presentation, Ms. Bloom and Mr. Kenny provided us with a thought-provoking introduction to this topic that will be sure to instill in us the appropriate reflexes whenever we encounter a situation where computer data and new technologies meet the law.
Society Humour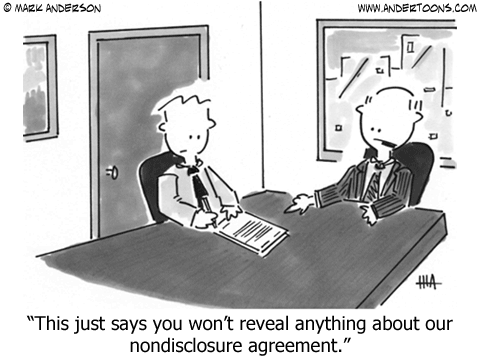 News from the Mishpuchah
Mazel Tov
To Society member Jillian Friedman on her marriage to Joseph Neudorfer
To Board member David Franklin on his marriage
To Past President Ted Goloff on the birth of his grandson
To Society member The Honourable Morton Minc on being named the recipient of the Quebec Justice Prize 2014
To 2014 winner of the Society's student award John Zelenbaba on being named a clerk to the Supreme Court
To Past President Ian M. Solloway on receiving the Mérite du Barreau. You can read his remarks given on the occasion here
To past speaker at the Society The Honourable François Rolland on his retirement form the position of Chief Justice of the Superior Court. The Society wishes him the best of luck.
To Angela Nevard on winning the Jeune Barreau's English Oratory Competion
Condolences
To Society members Richard McConomy and The Honourable Pierrette Sevigny on the loss of their brother and brother-in-law Kevin McConomy