NEWSLETTER: December 2021
Editors – Allen Mendelsohn, Larry Markowitz and Stephanie Perlis
President's Message
Doree Levine, President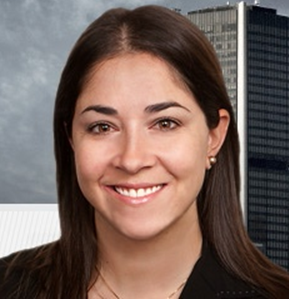 (cliquez ici pour lire le mot de la présidente en français)
Dear Colleagues, Honourable Judges, and Friends of the Society,
At the time of our last newsletter, we were ushering in a new year and a new rentrée judiciaire, with many of us welcoming the turning of another long page. This evening, I write this President's Message with flickering Hannukah candles within eyesight. December is here and snow is on the ground. These annual traditions and changes of season provide a comforting sense of familiarity. Many of you have begun returning to offices, occasionally or full-time. Despite these small tastes of normalcy, the pandemic continues to be a constant source of discussion and debate, in our professional and personal lives.
While we at Lord Reading have certainly been impacted by the Covid-19 pandemic, most significantly by the absence of our popular dinner events, the topic of Covid-19 itself had not yet made its way into our lectures…until now.
On December 9, 2021 at 6:00 pm, via Zoom, we will have the opportunity to listen in on an engaging conversation between Dr. Vardit Ravitsky and the Right Honourable Beverley McLachlin, as they discuss the impact of Covid-19 on issues such as access to justice, the impact on vulnerable persons, and how our judicial system fared during this unprecedented period.
In addition to being a Full Professor of Bioethics at the Université de Montréal, Dr. Ravitsky is Chair of the Pierre Elliott Trudeau Foundation's Covid-19 Impact Committee. Justice McLachlin, also a member of the Committee, and a most welcomed returning speaker to our Society, was Canada's longest-serving Chief Justice and is now an internationally known best-selling author.
A Zoom link to the event will be emailed only to those who have registered. If you have not yet done so, we invite you to register.
*****
Given the uncertainty that comes with the pandemic, we have hesitated to divulge our speakers well in advance. In the last few weeks, I was given the green light to resume in-person dinner events as of January 2022 and therefore invite you to "Save the Date" for our first in-person dinner event in almost two years!
On January 25, 2022, at 6:00 pm, I will be delighted to greet you all in person for our Annual Student Dinner. Further details regarding the event will follow shortly.
This will be a long-awaited opportunity to reconnect with old friends and to warmly welcome law students and young lawyers – some of whom may only have experienced law school and the practice itself from behind a screen. I hope to see you there and will do my utmost to ensure a comfortable and safe return to in-person events.
As usual, all of these events will be CLE-accredited by the Barreau du Québec and the Chambre des notaires.
In the coming weeks, I also hope to announce upcoming events hosted by the Society's Young Bar Committee in 2022; please stay tuned.
Wishing you all a peaceful holiday season and a happy, healthy new year.
Doree Levine, President
Lord Reading Law Society
Alan B. Gold Advocacy Lecture featuring Aboriginal law expert David Schulze
Larry Markowitz & Allen Mendelsohn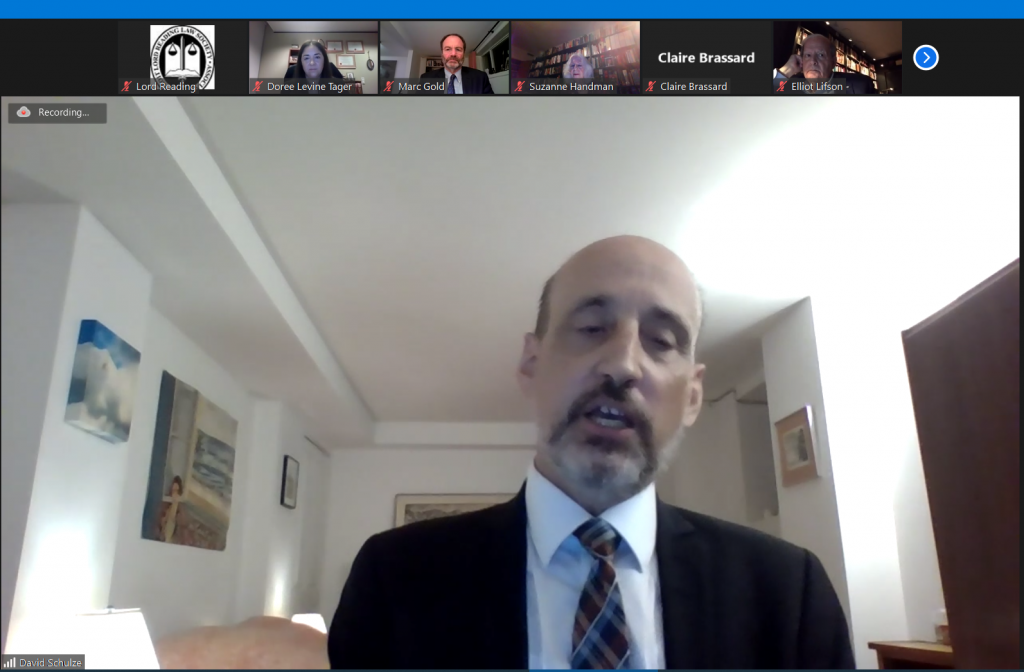 On October 13th, the Lord Reading Law Society held its annual Alan B. Gold Advocacy Lecture—this year featuring leading Aboriginal law expert David Schulze, who delivered a thought-provoking talk entitled "Reconciliation Goes to Court: Litigating the Indian Residential School Experience and Other Historic Abuse".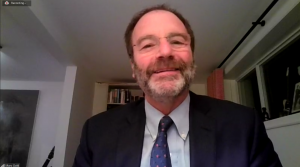 The late Chief Justice Gold's son Senator Marc Gold opened the evening, while paying homage to his father's legacy. Senator Gold shared an anecdote of watching the Grey Cup with his father, who "always rooted for the underdog"—much like our guest speaker Me Schulze, who has devoted his career to seeking justice for Indigenous peoples who have had to fight against forces determined to destroy their identity.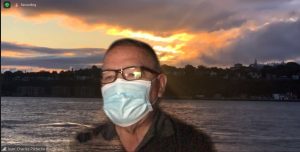 Prior to Me Schulze's address, Chief Jean-Charles Piétacho of Ekuantishit, Assembly of First Nations Quebec-Labrador, presented deeply personal account of his experience at a residential school. The account was profoundly moving and provided ample material for reflection for all in attendance.
Me Schulze enumerated many abuses of members of First Nations and described several cases in which he has sought redress for evils committed in residential schools. Me Schulze provided a detailed background of the residential school history. He explained how First Nations members were often dispatched to institutions located great distances from their homes.
Our guest speaker provided us with a history lesson on the effects of the Indian Act and its provisions allowing for the displacement to residential schools. He recalled how he had expected to focus his practice on public law; yet when he began his career, his firm represented residential school survivors.
Me Schulze described the failure to disclose abuses at residential schools by Canadian authorities. While cases had been sent to RCMP for investigation, these were never really made public, a symptom of the attitude of the time.
He recounted how the residential school settlement came about. Numerous cases had gone to trial and the Supreme Court of Canada, which set out the liability (and the limits to the liability) of Canada and the Church, setting the stage for the settlement.
Me Schulze enumerated some of the details of the settlement, which encompassed almost 80,000 eligible claims. As he pointed out, "there were vastly more claims than Canada ever expected." Canada made numerous "complicated and mean-spirited arguments", according to Me Schulze, resulting in a number of payouts being held back. With that said, Me Schulze insisted he did not want to underrate what Canada achieved with the settlement.
On the other hand, the 2019 judgment in JW v Canada rendered by the Supreme Court provided ample evidence of the extent to which Canada was willing to go to in order to deny certain claims. Fortunately, J.W. emerged victorious, but Me Schulze provided other examples where the Government of Canada was reluctant to make payouts to survivors.
Me Schulze concluded by asking, "What was this all about"? Responding to his own question, he quoted renowned Métis writer Maria Campbell, who said, "We don't need any more 'sorrys'. We have closets full of sorrys. There is no Cree word for reconciliation. Only 'kwayskahstahsoowin' which means 'setting things right.' Restoring what is ours would set things right. Giving our land back would set things right."
Our 2021 Alan B. Gold Lecture was held in the wake of our country's first annual National Day for Truth and Reconciliation, which honours the lost children and Survivors of residential schools, their families and communities. As our guest speaker so ably described, public commemoration of the tragic and painful history and ongoing impacts of residential schools is a vital component of the reconciliation process.
It was a truly meaningful and moving evening at Lord Reading.
Mazel Tov!
The Society is delighted to recognize its distinguished past presidents, members and friends who were named avocats émérites for 2021 by the Barreau du Québec:
Past President Nancy Cleman
Member Sandra Abitan, who has also appeared on the Lord Reading stage
Past Lord Reading Speaker and friend of the Society Dean Robert Leckey of McGill's Faculty of Law, whose Lord Reading talk Advocacy Notwithstanding the Notwithstanding Clause can be read here
Member Doreen Brown
Congratulations to all of you!
Society Humour