NEWSLETTER – September 2019
Editors – Allen Mendelsohn & Larry Markowitz
President's Message
Gregory Azancot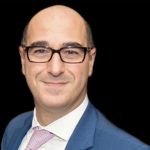 Dear Colleagues, Honourable Judges, and Friends of the Society,
I often find the waning days of summer bittersweet and it brings me back to my childhood where despite not wanting the freedom of the summer holidays to end, there was always that tinge of excitement as to what the next school year would bring. While those days of riding my bike around the neighbourhood without a care in the world are now just great memories, that tinge of excitement as to what this next year will bring has come over me stronger than ever.
I am thrilled and honoured to lead the Lord Reading Law Society this year. I want to immediately thank the executive and several Board members who have been beyond generous with their time and whose wise counsel I have called upon, and will surely continue to call upon throughout the year. That we are such a dynamic volunteer organization is truly amazing and the energy is contagious.
The Society continues to raise the bar regarding its involvement in the Québec legal landscape as well as with its dinner conference program and this year is no exception.
Our season will begin on Tuesday, September 24, 2019, with the annual Alan B. Gold Advocacy Lecture. On this occasion, we will have the pleasure of welcoming Professor Robert Leckey, Dean of McGill University's Faculty of Law, who's timely topic will be "Advocacy notwithstanding the notwithstanding clause". The lecture promises to be enthralling and provocative, and I invite all of you to register for this event by clicking here. I remind you that the early bird special ends this Thursday, September 19, 2019.
The other speakers that we have confirmed to date are Ken Dryden, former federal minister, prolific author and Hockey Hall of Famer on January 15, 2020, Supreme Court Justice Russell Brown, who will speak at our annual student dinner on February 6, 2020, as well as lawyer Marie Henein, one of Canada's leading authorities on criminal law who defended, amongst others, Jian Ghomeshi, and more recently, Vice-Admiral Mark Norman. We are also proud to be continuing our special tradition of hosting an event in partnership with the Israeli Consulate of Montreal, by welcoming Justice Hanan Melcer, Deputy President of the Supreme Court of Israel, who will honour us with his presence on May 21, 2020. As usual, all of these events will be CLE-accredited by the Barreau du Québec and la Chambre des notaires.
You have already received the notice to renew your annual membership in the Lord Reading Law Society. I encourage you to pay your membership dues, as we count on those funds to help contribute to the health of the Society, and to support the continuing program of outstanding speakers the Society has established. You will also benefit from significant discounts on dinner-meeting prices and be eligible to attend members-only CLE events. You can register and pay your membership fees online, or alternatively, you may download the paper membership form.
I look forward to seeing all of you at the opening dinner on September 24, 2019, and at all of our other events throughout the 2019-20 season, so as to perpetuate the unique Lord Reading spirit of camaraderie.
I wish you all a Shana Tova, filled with health and happiness.
Gregory Azancot, President
Lord Reading Law Society
Professor Lametti Goes to Ottawa
Larry Markowitz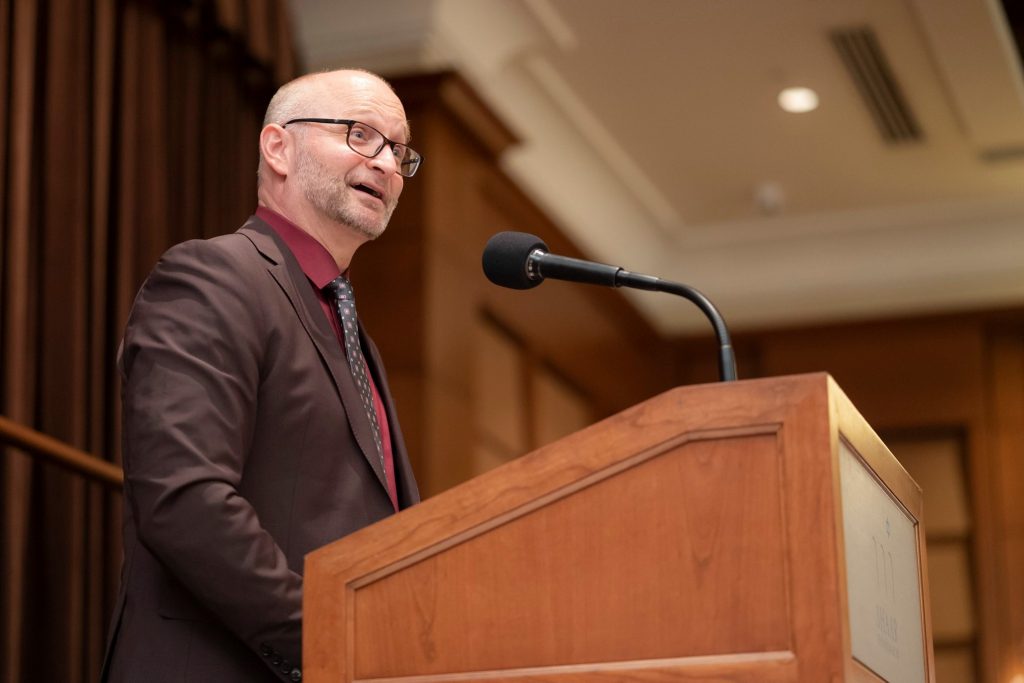 The closing dinner of our 70th Anniversary season took place on June 11, 2019, and featured a talk by the Honourable David Lametti, Minister of Justice and Attorney General of Canada (and longtime friend of the Society, as well as former law professor to many of our members).
After a heartfelt and sometimes humourous introduction by the Society's very own Allen Mendelsohn, whose master's thesis was supervised by then-professor Lametti, Minister Lametti (or "Dave", as Allen couldn't keep from calling him) recounted the story of how, as a young man from small-town Ontario, he ended up in Montreal studying law at McGill University.
Mr. Lametti then proceeded to explain the importance he accords to the Canadian Charter of Rights and Freedoms, and the role of the Justice Minister in ensuring that Canada remains a just society.
Of course, being a politician with a general election fast approaching, he also outlined several of his government's achievements in the realm of justice, making reference to updates to family law, the legalization of cannabis, and the nomination of judges who reflect the diversity of Canada's population, as well as various initiatives relating to reconciliation with Indigenous peoples.
Early in his speech, Minister Lametti paid a compliment to the Lord Reading audience, remarking that he was honoured to speak before a "room filled with people who are passionate about human rights and the Charter". In particular, he acknowledged former federal justice minister Irwin Cotler and former Quebec justice minister Herbert Marx, both of whom were seated at the head table.
* * *
David Lametti was born in Port Colborne, Ontario to Italian immigrant parents who sacrificed to ensure their four children would be afforded the opportunities they had lacked. For his parents, being a successful person meant being a good person: Hard work, faith, inclusion and kindness were key values he was taught at home.
Minister Lametti played hockey and worked hard at school—while also volunteering for the Liberal Party of Canada from a young age—eventually completing an undergraduate degree in political science and economics at the University of Toronto. This was in the early 1980's when Prime Minister Pierre Elliott Trudeau was repatriating our constitution.
At the time, Mr. Lametti was finding his voice, while observing the debates surrounding the repatriation process—making him truly a "Child of the Charter". He was drawn to the Charter's basic principle that, regardless of who you are, you are protected and have the right to be heard.
When it came time to choose a law school, he decided to study in Montreal, in a part of the country he did not know all that well. It probably helped that Lametti was already a Montreal Canadiens fan!
In the presence of Dean Robert Leckey of the McGill University Faculty of Law, who was also seated at the head table, Minister Lametti paid tribute to the value of a McGill Law degree. Unfortunately, we didn't record Mr. Lametti's testimonial, but it would have served as an excellent recruiting tool for Dean Leckey!
Not only did our guest speaker earn two law degrees at McGill, but he also met his future wife there! Indeed, Mrs. Lametti—McGill Law Professor Geneviève Saumier—was also seated at the head table.
McGill Law has the unique combination of being bilingual and bi-juridical. Studying at McGill and then teaching there for some 20 years had a huge influence on our guest speaker. Wherever he looks, he sees McGill Law graduates having an influence—be it in politics, as public servants or in Non-Governmental Organizations. This is the result of the "public service ethic" instilled by McGill Law—a legacy that has directly, and indirectly, shaped Canada, along with institutions all over the world where McGill Law graduates play key roles.
Mr. Lametti made specific mention of two role models who inspired him as he set out in his career as a lawyer: The late Rod MacDonald, former dean of the McGill Law Faculty, and former Supreme Court Justice Peter Cory, for whom our guest speaker clerked prior to attending Yale Law and Oxford.
Both of these gentlemen ingrained in Mr. Lametti an ethical approach to the law and a deep respect for the importance of equality. They showed a commitment to those who worked with them, treating them with respect and allowing their voices to be heard. In other words, they were living examples of the "value of being kind".
* * *
In this era of rapid technological change, where the power of big data and artificial intelligence threaten our privacy rights, the importance of protecting the rights of the individual is as important as ever.
Professor Lametti is most proud when he sees his former students using their legal skills to give back to their chosen communities. In today's tumultuous global landscape, more than ever, we need leaders with the sort of respect for the rule of law imparted by the McGill Faculty of Law, and indeed imparted upon the Lord Reading Law Society by the Honourable David Lametti!
A full set of photos from the evening can be found on our Facebook page
Don't forget your Lord Reading Membership!
It's that time of year! Time for you to renew your membership, or become a member for the first time! Membership offers significant discounts for dinner-meetings and with our updated pricing for this season you'll be saving even more! You'll also get exclusive access to the great members-only CLE events which we have planned. We'd love to have you as a member!
You can become a member online here or alternatively, you may download the membership form here. Membership has its privileges!
Society Humour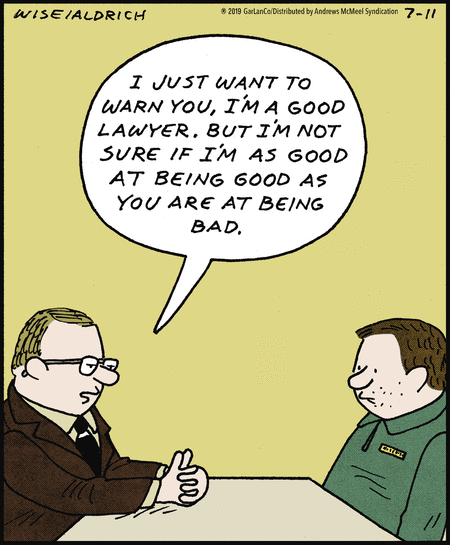 News from the Mispacha
Mazel Tov
To Society member The Honourable Nicholas Kasirer on being appointed to the Supreme Court of Canada
To Society members and friends Stéphane Lacoste and Patrick Buchholz on being named to the Superior Court of Quebec
To Society member The Honourable Irwin Cotler on being named to the Canada-UK Media Freedom High Level Panel of Legal Experts
To Society member The Honourable Morton Minc on being inducted into the Ordre national du Québec
To Society members The Honourable Joseph Robert Nuss, C.M., Q.C. and Mitch Garber, C.M. on being named to the Order of Canada
Condolences
To the Society Board member Tibor Holländer on the loss of his mother Sara Hersco Holländer