NEWSLETTER – May 2013
Mara Greenstone, President
Allen Mendelsohn and Larry Markowitz, Editor(s)
President's Message
Mara Greenstone
Dear colleagues and honourable judges,
This has been a very exciting year for the LRLS and we were privileged to welcome an outstanding lineup of speakers.
It has been an honour for me to serve as your President and I could not have done it without all of the dedication and support of our board and executive. I thank you all for everything you have done to make this year so successful.
I am particularly proud of the increased involvement of new members and young lawyers. You are the future of our society and I encourage all of you to stay involved.
For our closing dinner, being held on June 3rd, we are privileged to be welcoming the Honourable Marie Deschamps whose talk is entitled Public Interest Advocacy in Constitutional Litigation. You can register and pay online or download the dinner-invitation.
Special thanks to our sponsors for the evening, Borden Ladner Gervais.
I look forward to seeing all of you there.
Sincerely,
Mara Greenstone
Lawfare or War Crimes? The case of Village of Bil'in v. Green Mount International: An Inside Account
Larry Markowitz
On April 4th at the annual LRLS Human Rights Dinner, our Past President Ronald H. Levy made a return to the dais of the Society to give us a behind-the-scenes account of a landmark case in Canadian human rights law in which he played a key role.
In a dynamic talk, occasionally infused with humour and animated by an eye-catching slide presentation, Me Levy recounted how he successfully fought against the jurisdiction of the Québec Superior Court in an Israeli land claim. Residents of Bil'in, a Palestinian farming village in the West Bank, sued two Montreal-based companies, represented by Me Levy, for allegedly violating international law by building condominiums for Israeli settlers on disputed land just outside Jerusalem. The plaintiffs argued that Québec courts should have jurisdiction because the companies were incorporated here in Montreal.
In rejecting jurisdiction, Mr. Justice Louis-Paul Cullen ruled that this was an inappropriate case for a Canadian court. He stated that Israel's High Court of Justice was "clearly […] the logical forum and the authority in a better position to decide" on the complaint. He further affirmed that the Israeli High Court of Justice is an "independent tribunal" that would "try the Action fairly and impartially".  Mr. Justice Cullen's decision contained an implied statement of satisfaction with the high quality of justice meted out by the Israeli court system.
The plaintiffs also wanted their lawsuit to be considered in light of Canada's Crimes Against Humanity and War Crimes Act.  Bil'in sought two million dollars in damages and requested an injunction to demolish the apartment buildings that had already been built. Many viewed this action as a publicity stunt, including our guest speaker.
The lawsuit was brought by the family of the late Ahmed Issa Abdallah Yassin, the alleged title-holder of the plot of land.  Among other things, they alleged violations of numerous international treaties, the Civil Code of Québec and the Québec Charter of Human Rights and Freedoms – indeed they invoked "everything short of the municipal by-laws of Cote St. Luc", joked our guest speaker. The plaintiffs alleged that the client was the "agent of an occupying power" as defined in the Fourth Geneva Convention of 1949, the Geneva Convention relative to the Protection of Civilian Persons in Time of War.
There were a couple of major holes in the plaintiffs' case:  First, the condominium project was nowhere near Québec. Second, there was no actual title deed demonstrating that Mr. Yassin had ever owned the land.
Me Levy argued forum non conveniens pursuant to Article 3135 CCQ. The State of Israel's courts were best placed to decide this land dispute. In fact, several similar lawsuits had previously been heard by the Israeli High Court of Justice.  The Israeli HCJ is a division of the Israeli Supreme Court that allows direct access to justice by plaintiffs, including West Bank Palestinians, when matters of property ownership are at issue. (In contrast, in Canada, we only have direct access to the "high court of public opinion", quipped Me Levy).
The plaintiffs countered that this was not really a land claim, but rather a human rights dispute. Me Levy countered this argument by pointing out that the basis for the action at bar was ownership of the land. As Mr. Yassin's heirs could not prove such ownership, they did not have a case. Evidence presented before the Court by Me Levy on this issue went back as far as the Ottoman Land Code and Registration Laws of 1858 and 1859!
Regardless of the intricacies of Ottoman era property laws that were invoked, the essential point of this lawsuit is that it was a classic case of "lawfare", whereby the language of human rights is employed to achieve political and military goals. The most telling evidence of this was when a member of the plaintiff group said to Me Levy upon the conclusion of the case, "Just by filing this lawsuit, we achieved success."
Me Levy was thanked for his compelling presentation by Me Ron Stein, who commended Me Levy on his wisdom and his dedication to clients, and pointed out that we are fortunate to have Me Levy as a Past President and active member of the Society.
Society Humour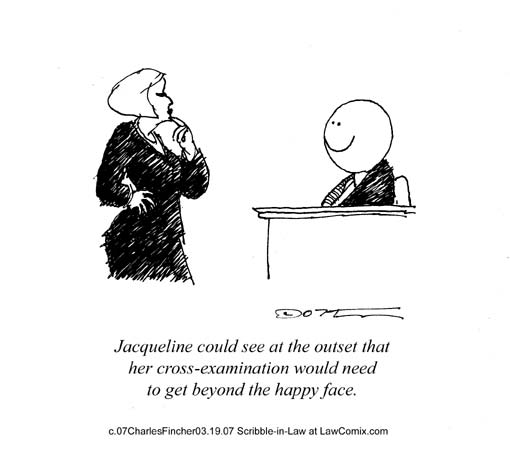 News from the Mishpuchah
Mazel Tov
To Society President Mara Greenstone on the birth of her daughter Sophie Charlotte
To Society Board member Les Erdle on the birth of his granddaughter
Condolences
To Society Past President Ian Solloway on the loss of his mother Mavis