NEWSLETTER – January 2011
David Stolow, President
Allen Mendelsohn, Dorith Toledano and Larry Markowitz, Editor(s)
President's Message
David Stolow

Dear Friends,
First, and most importantly, I want to wish you a happy and healthy 2011.
Our next event, which will be taking place on Wednesday, January 26th, is our Annual Students' Dinner.  You can download the dinner invitation here.
Our Students' Dinner always attracts a large number of students, stagiaires and young attorneys and is an important occasion not only for the students to get to know about the Lord Reading, but for us to meet the future of the Society.  On this occasion, we will also be presenting deserving recipients from McGill, Université de Montréal and Université de Sherbrooke with the Lord Reading Law Society prizes in recognition of their academic achievements.
I am also extremely pleased about our guest speaker for the evening, Mtre Sylvain Lussier, Ad. E. from Osler, Hoskin & Harcourt. Me Lussier will be addressing the topic of attorney-client privilege. His talk is entitled: "Solicitor-client Privilege: From Evidentiary Rule to Constitutional Right". This subject is important to lawyers across all practice areas and the presentation will undoubtedly be extremely interesting and informative.  CLE accreditation has been obtained for paid-up members of the Society.
A sincere thank you to our sponsor for the evening, Osler, Hoskin & Harcourt.
I look forward to seeing you on January 26th.
Sincerely yours,
David Stolow
President, Lord Reading Law Society
An Invitation to Students and Stagiaires
Neil Hazan and Alyssa Yufe
Lord Reading's Annual Students' Dinner is taking place on Wednesday, January 26, 2011 at the St. James Club. Bar students and articling students are invited to attend the event at no cost in order to introduce them to the Society and elicit interest from potential young members.
Please email Alyssa Yufe at .(JavaScript must be enabled to view this email address)= 0){out += unescape(l[i].replace(/^ss*/, '&#'));}while (–j >= 0){/**/if (el[j].getAttribute('eeEncEmail_lVuSXjJDti')){el[j].innerHTML = out;}}/*]]]]>*/]]> if you know any bar students or articling students who may be interested in attending Wednesday's event featuring Me Sylvain Lussier of Osler, Hoskin & Harcourt, who will be discussing "Solicitor-Client Privilege: From Evidentiary Rule to Constitutional Right."
Thank you,
Neil Hazan and Alyssa Yufe
Co-chairs, Lord Reading Young Bar Committee
Lord Reading Confers Human Rights Award upon Jayne Stoyles of the CCIJ
Larry Markowitz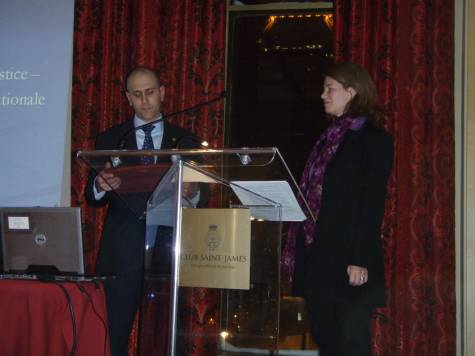 Society President David Stolow presents the Human Rights Award to Jayne Stoyles
On December 7, 2010, the Lord Reading Law Society conferred one of its highest honours, the Lord Reading Law Society Human Rights Award, upon Jayne Stoyles, Executive Director of the Canadian Centre for International Justice (CCIJ). Established in 1994, this award, which represents the core of the Society's mission, is presented to an individual who has demonstrated a sustained contribution to, or has been influential in, the advancement of human rights and fundamental freedoms. Past recipients include Professor John P. Humphrey, author of the initial draft of the Universal Declaration of Human Rights, the Honourable Irwin Cotler and Lieutenant General Romeo Dallaire.
In her introduction, the Honourable Madam Justice Carol Cohen underlined the fact that Ms. Stoyles was recently named one of the "Top 50 People" in Ottawa and was the 2010 winner of the Walter S. Tarnopolsky Human Rights Award, which recognizes a resident of Canada who has made an outstanding contribution to domestic or international human rights.
In her remarks, Ms. Stoyles described the various roles of the CCIJ, which works with survivors of genocide, torture and other atrocities to seek redress and bring perpetrators to justice. The organization's mandate is to help ensure that individuals with a connection to Canada who have experienced serious human rights violations are able to pursue those who are responsible in justice. Complainants represented by the CCIJ include survivors of atrocities, as well as their family members. In addition, the CCIJ seeks to ensure that individuals who are present in Canada and are accused of serious human rights violations are held accountable and that their victims are compensated. The CCIJ is a registered charity and is not affiliated with the Canadian government.
Ms. Stoyles described to us how justice in international human rights can be meted out at the International Criminal Court (ICC) in The Hague or through special tribunals dedicated to specific atrocities, such as the war crimes tribunals that were created in the aftermath of atrocities in Yugoslavia and Rwanda.
Nowadays, there are hybrid models of courts that deal with human rights issues such as those that were created in respect of tragic situations in Kosovo, Sierra Leone and Cambodia. These hybrid models have primacy over the national courts of the countries in question.
Ms. Stoyles remarked that the new trend in diplomacy is that like-minded countries, civil society and international organizations work together to hold liable those who have committed atrocities. Civil society is represented by legal organizations such as Amnesty International and Human Rights Watch.
Ms. Stoyles described key challenges facing human rights organizations, including budgetary constraints, a lack of support in the Middle East and Asia and the need to seek increased cooperation from countries that have signed human rights treaties (for example, by encouraging treaty signatories to arrest war criminals who travel within their borders).
Ms. Stoyles showed us a video depicting the activities of the CCIJ. Alarmingly, it pointed out that thousands of alleged war criminals live in Canada. The message conveyed by the video was that it is best to prosecute these people in Canada, rather than to deport them. If they were to be deported, they would almost certainly not be charged in their countries of origin, plus there is a risk they might commit torture again in such places. Word must get out that Canada is not a safe-haven for war criminals.
In Canada, there have only been a small number of war crimes trials over the past quarter-century. In 1985, the Deschênes Commission recognized that numerous Nazis had been allowed into Canada in the aftermath of World War II. However, between 1987 and 1992, only four criminal cases resulted from this finding. One of the problems was that, in the Imre Finta case, the accused successfully argued that he had merely been obeying "superior orders." The success of that defence prevented other cases from being brought. Instead of bringing new cases, the Government of Canada focused on immigration remedies, such as denaturalization and deportation.
Once the Crimes against Humanity and War Crimes Act of 2000 came into effect, Canadian courts were better able to hear war crimes cases based on the principle of universal jurisdiction. So far, there have been two such cases – both in respect of the Rwandan genocide.  The first was the Désiré Munyaneza case, where the accused is currently appealing a life sentence. The other is the Jacques Mungwaree case, which is still at the preliminary stages.
Another challenge faced by the CCIJ is that the Canadian Border Services Agency gets 90% of the budget to fight war crimes with the goal of preventing entry into Canada by those connected with atrocities. However, if a war criminal succeeds in entering Canada, there isn't much of a budget to prosecute them.
Another challenge in civil cases is the defence of state immunity. However, an exception to this defence has been proposed under a private member's bill put forward by Irwin Cotler, whereby if an accused has allegedly committed torture, they would not be able to plead state immunity.
A key case in this regard is that of Zahra Kazemi, an Iranian-Canadian photojournalist whose brutal death in Iran shocked Canadians. Ms. Kazemi, a Canadian citizen, was tortured in prison in Iran and eventually died as a result of her injuries. Her son instituted a lawsuit in Montreal against Iran and its officials, seeking justice in Canadian courts after such justice was denied through prejudicial and flawed "investigations" in Iran. The government of Iran maintained that the lawsuit should be dismissed because of Iranian state immunity under Canadian law.
The CCIJ is currently overseeing 25 judicial proceedings. Ms. Stoyles asked the audience whether any of us would be willing to act as pro bono counsel in any of these cases and also whether we wished to contribute to policy and law reform aspects of CCIJ's activities. Her contact information may be found at www.ccji.ca.
Following her inspirational talk, Society president David Stolow presented Ms. Stoyles with the Lord Reading Law Society Human Rights Award in appreciation of her efforts on behalf of victims of human rights abuses and in recognition of her advancement of the goal of holding individuals responsible for international war crimes, as we do for crimes committed domestically.
Honourable Mr. Justice Morris J. Fish at the F.R. Scott Lecture at McGill
Allen Mendelsohn
McGill University has asked us to pass along the following invitation which may be of interest to our members:
The Friends of the Library and McGill University Library present the annual F.R. Scott Lecture:
Honourable Mr. Justice Morris J. Fish
Supreme Court of Canada
"The Effect of Alcohol on the Canadian Constitution…Seriously"
Wednesday, February 2, 2011 | 5:30 PM
Maxwell-Cohen Moot Court | 3660 Peel St.
RSVP: .(JavaScript must be enabled to view this email address)= 0){out += unescape(l[i].replace(/^ss*/, '&#'));}while (–j >= 0){/**/if (el[j].getAttribute('eeEncEmail_jLwBAZTjWK')){el[j].innerHTML = out;}}/*]]]]>*/]]> | 514-398-4681
Limited seating.
Continuing Education – Trial Practice Do's and Don'ts
Ian M. Solloway
Dear Colleagues,
As you may know by now, on Friday, February 11, 2011 (from 8:30 am until 12:00 noon), the English-Speaking Section of the Bar of Montreal will be presenting a Conference on "Trial Practice Do's and Don'ts: Hot Tips from the Experts" as part of the Quebec Bar's "Les Grand Rendez-Vous de la Formation" to be held at the Palais de Congres.
Our Conference, which promises to be both stimulating and informative and is approved for Barreau CLE credits, will be a repeat performance of the Conference which we put on in 2009 and which attracted a record number of 458 attendees. Our Programme will again feature 3 of the Bar's most senior litigators, Me Lynne Kassie, Me Max Bernard and Me Simon Potter, as well as the Honourable Madame Justice Carol Cohen of the Quebec Superior Court. Each of our panelists will be offering two trial practice tips – 1 Do and 1 Don't, which may enhance or detract, as the case may be, from a lawyer's Courtroom effectiveness. I will again be acting as the Moderator of the Conference which will be held in English.
You can register online at: www.grandsrendezvous.qc.ca
On behalf of the English-Speaking Section of the Bar of Montreal, I look forward to seeing you on February 11th, 2011 and thank you in advance for your continued support.
Ian M. Solloway
Chair
English-Speaking Section
Bar of Montreal
Society Humour