NEWSLETTER – April 2017
Larry Markowitz, President
Allen Mendelsohn, Editor(s)
President's Message
Larry Markowitz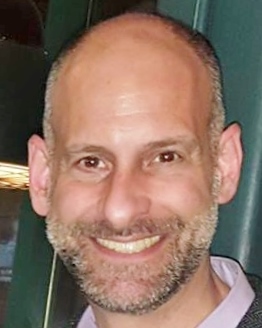 This week, we celebrate the 35th anniversary of the Canadian Charter of Rights and Freedoms. This milestone is especially significant to those of us at Lord Reading, in light of our Society's longstanding dedication to the furtherance of human rights and fundamental freedoms.
And who better to speak at our next dinner than the Minister of Justice and Attorney General who steered the Charter through the legislative process back in 1982!
The evening of Tuesday, April 25th will feature "A Conversation with The Right Honourable Jean Chrétien". Mr. Chrétien has been witness to, and a participant in, numerous chapters in our nation's history. First elected to the House of Commons in 1963, Mr. Chrétien made his mark early on, submitting a private member's bill in 1964 to change the name of the national airline from Trans-Canada Airlines to Air Canada.
Prior to winning three consecutive majorities as Canada's 20th prime minister from 1993 to 2003, Mr. Chretien served in a wide range of cabinet posts in the governments of Lester B. Pearson and Pierre Elliott-Trudeau, including Deputy Prime Minister, Minister of Finance, and Minister of Justice and Attorney General.
Known for his rousing speeches that come "Straight from the Heart", Mr. Chrétien will surely regale us with tales of people he's met and political battles he's waged over his lengthy career.  And I expect he will have a thing or two to say about current events as well.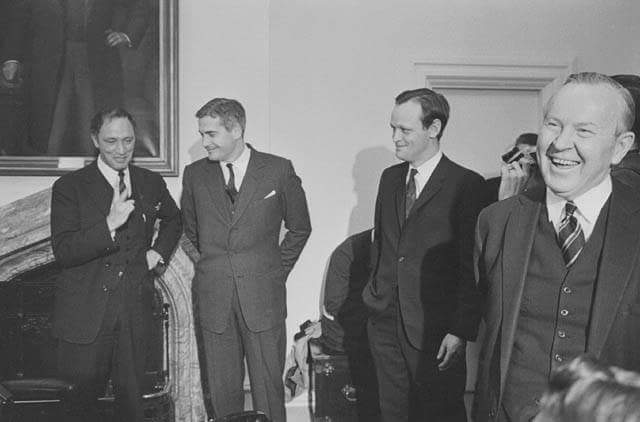 Our next LRLS speaker Jean Chrétien (second from right) 50 years ago – as a minister in Lester B. Pearson's cabinet in April 1967. (L to R) Pierre Trudeau, John Turner, Jean Chrétien and Lester B. Pearson. All four men would serve as Prime Minister of Canada.
*****
Please register for our April 25th dinner-event at the link on the left of this page. For early bird rates, you must register by Friday, April 21st.
We are pleased to offer a discounted price of $36 to the first 20 students who register. If you are a student at law school or the École du Barreau and wish to attend, please contact info@lordreading.org for instructions on how to register. Please note that stagiaires pay the same as our junior members ($50 prior to the early registration deadline and $60 afterwards) and should register as such using the link on the left side of this page.
We look forward to seeing you on April 25th for what promises to be a memorable evening in the annals of the Society!
The Society marks the 35th anniversary of the Canadian Charter of Rights and Freedoms
Larry Markowitz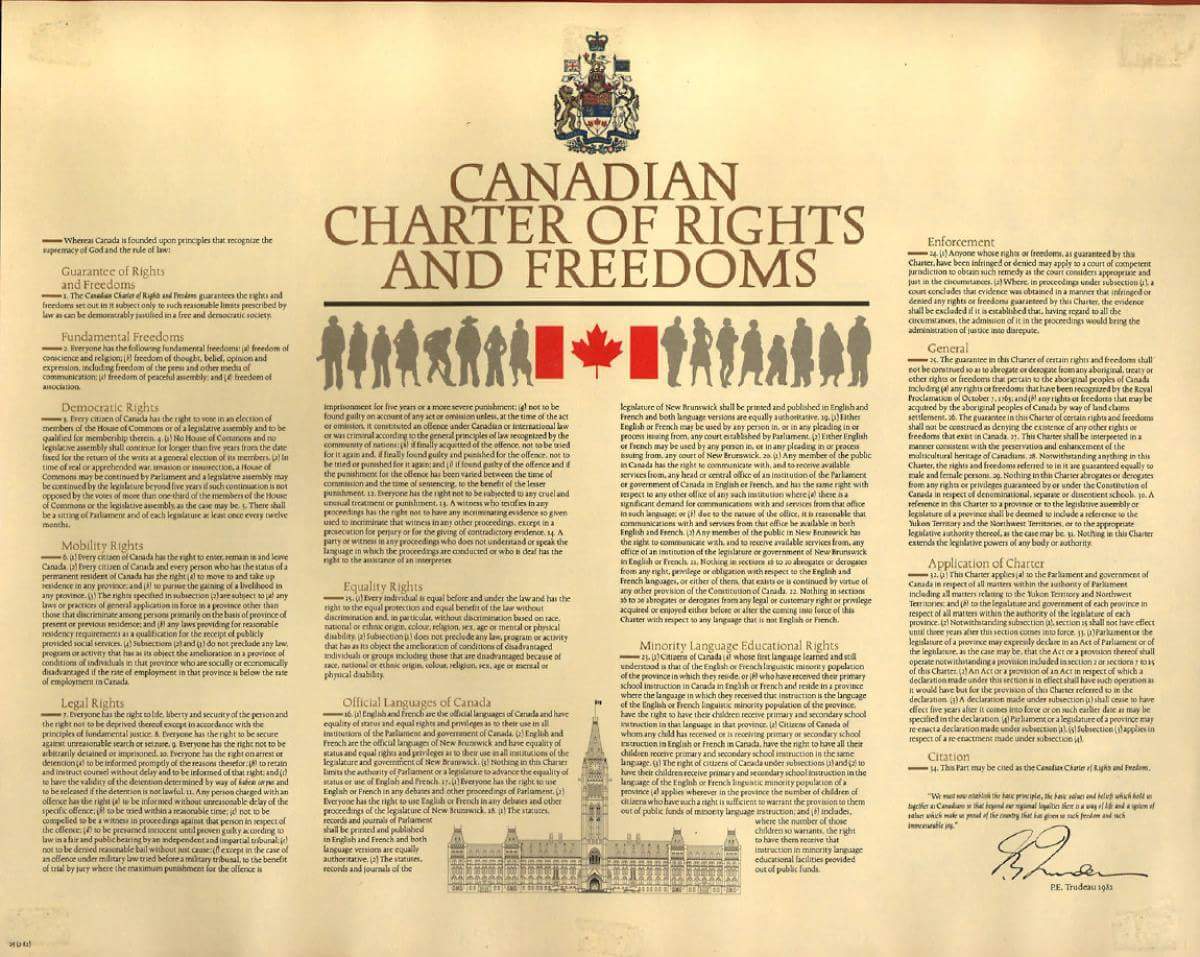 April 17, 1982 marked a defining moment in our country's history, when Canada took the bold step of adopting a rights-protecting document as part of our Constitution.
  
The Charter of Rights and Freedoms has been a powerful force for social progress and the realization of a more inclusive and compassionate society. Regardless of our gender, our race, our national or ethnic origin, the colour of our skin, the faith we choose or choose not to practice, our age, our mental and physical ability or our sexual orientation, the Charter requires that we all be treated equally under the law.  The Charter protects all Canadians and has become an internationally-renowned document.
  
The Charter has influenced not just Canadian law, but jurisprudence and the drafting of constitutions around the world. It has been described as the leading influence on Israel's basic laws and the bill of rights of Hong Kong, South Africa and New Zealand.
One academic study found that "the decisions of Canadian courts are cited by New Zealand judges far more than those from any other jurisdiction."
When South Africa was trying to create a nation where they could live together and accommodate differences and respect differences, they turned to Canada and its Charter for inspiration.
In the 1990s, the State of Israel turned to Canada's Charter when it drafted its basic laws on human rights. Aharon Barak, who eventually became president of the Israeli Supreme Court and earlier had been Israel's attorney general, wrote that, "Canadian law serves as a source of inspiration for many countries around the world."
On this 35th anniversary of Canada's Charter of Rights and Freedoms, the Lord Reading Law Society salutes this vital constitutional document, protector of Canadians' rights and freedoms and one of our country's greatest accomplishments.
The practice of law in 2025: Will we be replaced by robots?
Zineb Fassi Fehri
Ed.'s note – Zineb Fassi Fehri is a law student working at Davies who attended the Fred Headon lecture on March 23rd, and we are pleased to reprint her summary of the lecture in its entirety. If you are a law student or anyone else and would like to contribute to the newsletter, please contact us!
The practice of law in 2025: Will we be replaced by robots?
This question has a very lawyerly answer: "sort of". The fact is that nowadays Artificial Intelligence (AI) is deployed in the legal profession and is becoming quite advanced. This is also a very exciting development for a number of reasons. In the last five years, substantial amounts have been raised by US-based start ups to work on AI in law. So at the very least, AI is coming into the legal profession.
Why would we want artificial intelligence in our practice?
Studies have shown that AI makes people and professionals better. If legal practice was easy, lawyers would have been replaced a long time ago. Law is about interactions between human beings and it makes it complex and "messy". AI can't get a grasp of that and have the kind of creativity to beat the human competitors. But it can help in other aspects. Because of the development of AI, other professionals are looking at what lawyers do and thinking that there are better or more efficient ways to do it (for instance, legal research). And that appeals to the clients. One seventh of the legal needs are not served according to a CBA study and that is a shortcoming of our legal system. AI might be a solution that helps with that.
What are clients asking of their lawyers (as reported in the CBA study)?
See the process (transparency) and be involved in it (the "Facebook effect"): at Air Canada (Fred Headon's employer), AI is already used for these purposes and people can see the process and get involved.
Quality and efficiency: clients are expecting to have quick answers to their questions and get solutions. AI might help with that by opening the files, for example, as the first questions are roughly the same.
Predictability about the process: to deal with the important level of uncertainty in the airlines, human resources embrace the technology to go through the data and get a forecast on different things like budget, flights, weather, and so on. The degree of uncertainty in the airline industry is far behind the level of uncertainty in a court house. There's little that we shouldn't be able to foresee. To get there, lawyers have to rely on the technology to deal with all the data as it can't be easily done by hand.
What would AI in legal practice look like?
It will serve lawyers. It will be doing things that lawyers do or used to do. AI is already used in certain areas of practice (ex: ROSS, taxes system for taxpayers and small businesses).
There are examples of new software being used in the legal field:
Beagle: developed by a lawyer. Software that does keyword search in a contract and finds clauses that deviate the most from what is expected to be normal so that the lawyer can focus on them
Closing folders: track the signatures and bring them together in an online secure environment
Loom: evaluate what are the chances of success of a specific lawyer in front of a specific judge
In conclusion, lawyers must embrace innovative technologies and use them to improve their service.
Notes from the Henry Steinberg Memorial Lecture and the Prix du Ministre de la justice winners
Allen Mendelsohn
The Henry Steinberg Memorial Lecture on March 23rd was a jam-packed evening. Fred Headon's speech (summarized above) was informative, entertaining and posed thought-provoking questions about the future of our profession. Fred, as Canadian Bar Association Past President and Chair of the CBA's Legal Futures Initiative, had unique insight into the topic.
But that was not all! The evening featured the inaugural presentation of "Les Prix du Ministre de la justice du Québec – Association de droit Lord Reading". These awards were presented by Quebec Minister of Justice Stéphanie Vallée. There were two prizes awarded:
One $1,000 scholarship (funded by the Justice Minister)  presented to a law student who is active in Lord Reading and who best promotes and advances the objects of the Society and the mission of the Ministère de la Justice (access to justice, promotion of human rights, etc.)
One non-monetary award (the "Access to Justice Award") awarded to a Society Member who advances the cause of Access to Justice in Quebec during the year preceding the presentation of the award, while promoting and advancing the objects of the Society and the mission of the Ministère de la Justice.
The student prize was awarded to Michael (Mikie) Schwartz. Mikie worked diligently on student government related matters. He has played an active role on the Lord Reading Law Society Human Rights Committee and attends nearly all Lord Reading events. He has also provided legal information to these in need on a pro bono basis. You can see Mikie receiving his award on Facebook. Mikie sent the following letter of thanks to Society President Larry Markowitz:
Dear Mtre/President Markowitz,
I write to convey my deepest thanks and appreciation to you and the Lord Reading Society – and the Ministre de la justice du Québec – on awarding me the first annual student Prix de la ministre de la justice – Association de droit Lord Reading (as you yourself said, that's a mouthful!) and for the generous scholarship.
As I wrote on my Facebook, I am deeply grateful to be recognized by my peers, colleagues, and mentors. I do what I do with LRS because I love it – the camaraderie, the enlightening speakers, the fight for against bigotry on campus – but to be recognized by an organization and people for whom I have such gratitude and respect is the 'icing on the cake.'
I look forward to many more years of involvement with this association, one which I describe to my friends and peers as a 'semi-hidden' gem and moreover, an unparalleled one.
My deepest thanks to you, the Committee, the LRS as a whole, and the Minister. It is an honour and a pleasure to receive this award.
~ Mikie
The Access to Justice Award was awarded to longtime Society member Ann Solden Ad. E. Ann has been an unwavering advocate of elder rights, as Executive Director of the National Institute of Law, Policy and Aging and founder of the Elder Law Clinic. You can see Ann receiving her award on Facebook. Ann sent the following letter of thanks to Society President Larry Markowitz:
Dear Larry,
I wish to thank the Lord Reading Society and the Ministre de la justice du Québec for your very touching tribute last week. I will cherish this recognition of my clinic and institute's mission to provide access to justice to vulnerable and marginalized older persons, regardless of socioeconomic status. The clinic, which serves older adults throughout the province on issues of aging and the law, celebrates its 10th anniversary on May 1, 2017 and introduced Canada's first clinical legal course in law and aging (Elder Law). This award is a lovely gift on the occasion of this milestone.
We do what we do without thought of awards but it is very gratifying and humbling to be saluted by one's colleagues and friends.
I am so very lucky to be doing what I was meant to do in life.
Kind personal regards,
Ann
****
The Justice Minister is a fan of Lord Reading!
Quebec Justice Minister Stéphanie Vallée appeared delighted to be in attendance for the evening. After being introduced by D'Arcy-McGee MNA David Birnbaum, Minister Vallée announced an important government initiative regarding the translation of judgments to English. After presenting the Prix du Ministre de la justice du Québec – Association de droit Lord Reading, Minister Vallée was presented with the traditional Lord Reading thank you gift of an engraved pen. She was such a fan, she sent us a photo of the pen in action in Quebec City!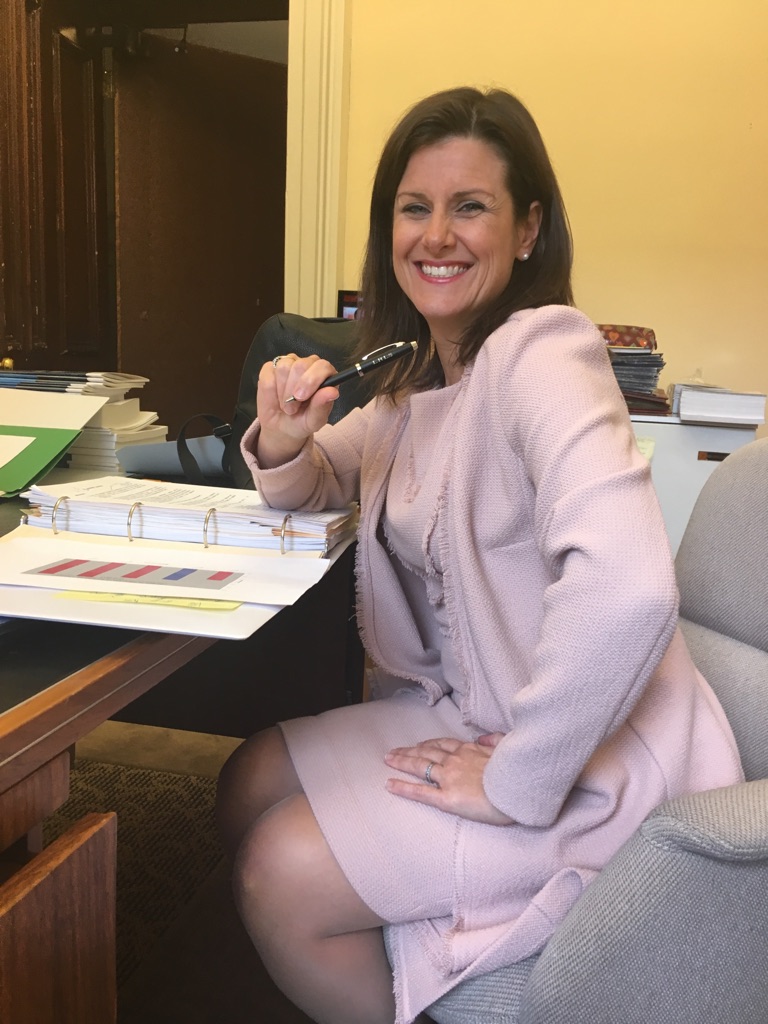 ****
The Society Remembers Justice Henry Steinberg
As part of the Henry Steinberg Memorial Lecture, the Society was pleased to welcome Justice Steinberg's widow Janice, as well as two of his three children, Sandy and Barry. Society Communications Director Allen Mendelsohn remembered Henry Steinberg as part of his introduction to Fred Headon. The Mendelsohns and the Steinbergs are long-time family friends. Allen recalled Henry fondly, speaking of his passion, compassion, intelligence, warmth, and his unmatched sense of humour. 
****
You can relive all the highlights of this exceptional evening through our Facebook photo album.
Your Continuing Legal Education credits – a reminder
Allen Mendelsohn
The Society wishes to remind you that we are approaching the deadline for entering your CLE credits on the Barreu website for the 2015-2017 period. While the 2015-2017 period for CLE ended March 31st, you have until April 30th to enter your credits for that period. Furthermore, there is a new rule in place for the 2015-2017 period allowing you to carry over up to 6 hours of additional CLE to the next period. So even if you reached your maximum of 30 hours during the 2015-2017 period, you should still enter any additional CLE credits as up to six hours worth will get transferred over to the 2017-2019 period. 
Job Offer – Lawyer or Notary, English-speaking Communities, Éducaloi
Éducaloi is seeking a lawyer or notary to play a key role on the team serving Quebec's English-speaking communities. A versatile professional, this person will be asked to handle a wide variety of legal, communication and administrative assignments. This person will work to understand and meet the needs of Quebec's English-speaking citizens and to ensure that Éducaloi is well-known among this audience.
The deadline for applying is April 28th. More information and instructions for applying can be found on Éducaloi's website.
News from the Mishpuchah
Mazel Tov
To Society Past President Nancy Cleman on being appointed to serve as an independent member of the Board of Directors of the Société de la Place des Arts 
Condolences
To the family of long-time Society member the late Edwin J. Winston
To the family of the late Jon Feldman