NEWSLETTER – November 2012
Mara Greenstone, President
Allen Mendelsohn and Larry Markowitz, Editor(s)
President's Message
Mara Greenstone
Dear Colleagues and Honourable Judges,
Our annual Henry Steinberg Memorial Lecture was certainly a historic and memorable one for the Society when we had the privilege of welcoming Lord Reading's great-grandson, Lord Alexander Rufus-Isaacs whose talk was both educational and entertaining. It was also very fitting on this historic occasion, that we were surrounded by many our Society's Past Presidents.
By unanimous resolution of the Board, it was decided to make Lord Rufus-Isaacs an honorary lifetime member of the society, and he graciously accepted. We are thrilled to consider him as part of the Lord Reading family.
We were so touched to be presented with a special gift and family treasure… an original drawing of Lord Reading himself which graced the cover of Vanity Fair magazine in 1904. This special piece of memorabilia will certainly be cherished by the Society for many years to come: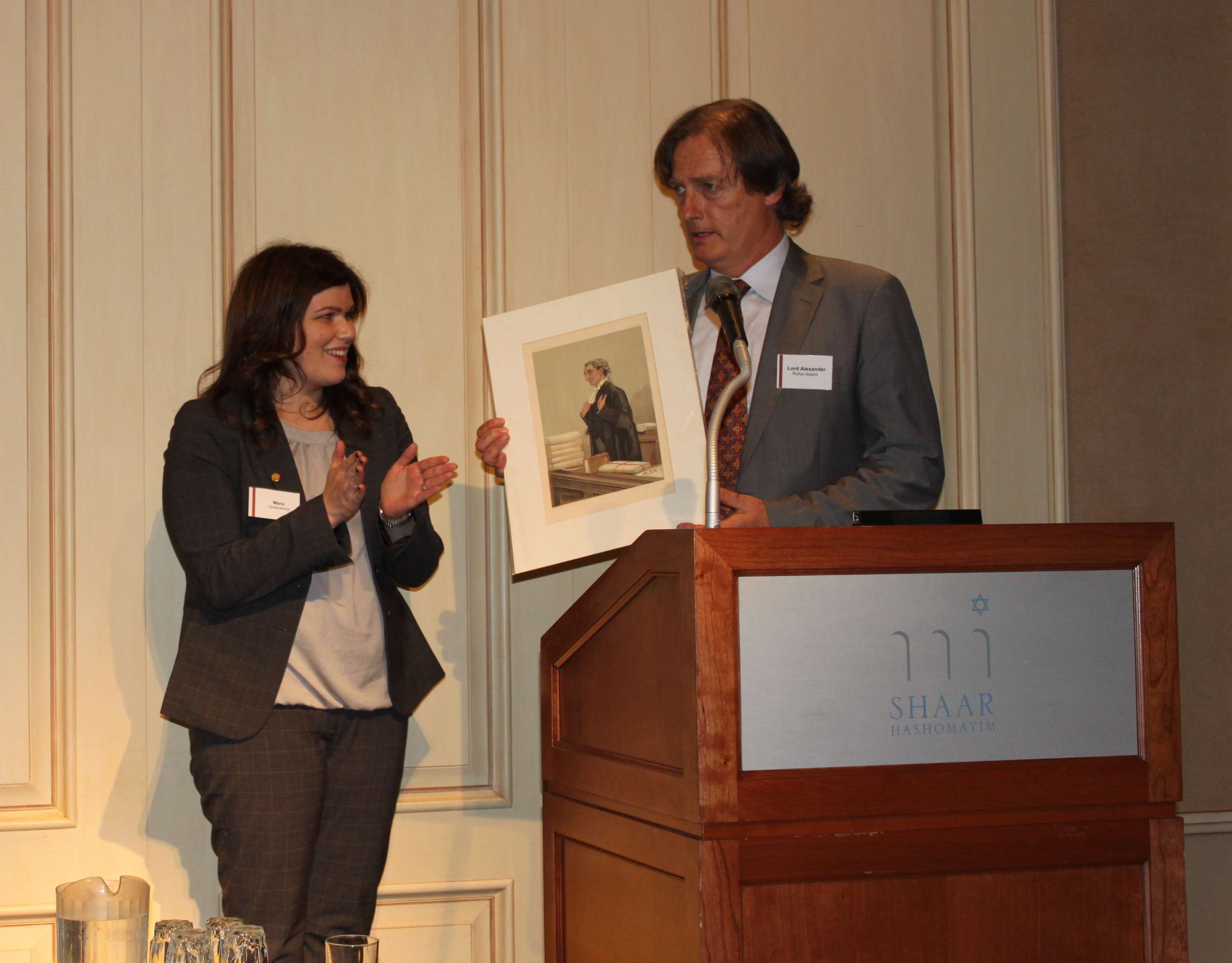 Thank you all for helping to make this special evening such a wonderful success.
On the occasion of our next lecture, being held on Thursday November 22, 2012, we are thrilled to welcome The Honourable Rob Nicholson, P.C., Q.C., M.P., Minister of Justice and Attorney General of Canada who will address us on the topic of "Standing up for Victims of Crime".
Please note that for this one time only, the evening's schedule will begin with cocktails, followed by the Minister's speech, and then by dinner immediately thereafter.
I am happy to report that we have received certification for CLE credits. You can download the dinner invitation here, or register online here.
Special thanks to our generous sponsor for the evening, Robinson Sheppard Shapiro.
I look forward to seeing all of you on November 22nd.
Sincerely,
Mara Greenstone
Lord Alexander Rufus-Isaacs Addresses the Society on an Historic Evening
Allen Mendelsohn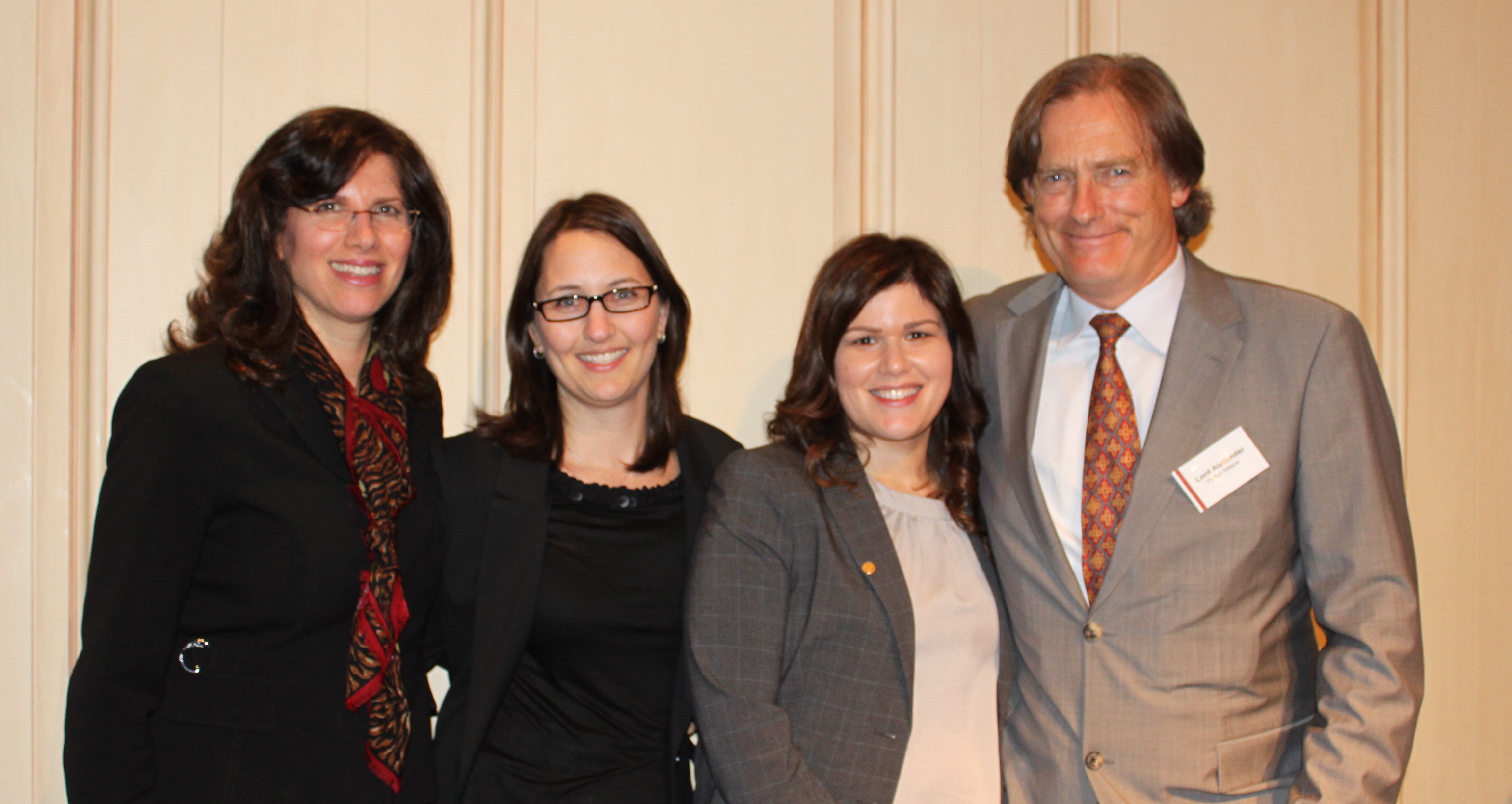 (Immediate Past President Robin Schiller, First Vice-President Heather Michelin, and President Mara Greenstone with Lord Rufus-Isaacs)
On the occasion of the Annual Henry Steinberg Memorial Lecture on October 18th, the Society was overjoyed to welcome a true member of the family, Lord Alexander Rufus-Isaacs, great-grandson of the Society's namesake, Lord Reading.
Lord Rufus-Isaacs was introduced by Morris Chaikelson, who noted that "tonight we re-connect with our history", on the 64th anniversary of the founding of the Society. He also led the enthusiastic crowd in a rousing rendition of dayenu.
Lord Rufus-Isaacs opened his remarks describing his transition from England to California. He learned how much law was a business in California, when they asked to see his book of business and he answered "what's that?"
Lord Rufus-Isaacs discussion then turned to the substantive law of entertainment, covering three topics in particular. He first discussed the law of libel and defamation, and the differences between American and British law. He then turned to arbitration, and the importance of arbitration clauses in Hollywood contracts. Finally, he spoke of the "death of copyright infringement", as the plaintiff's bar in such cases has gotten very high.
He then spoke of his great-grandfather, first describing his "wild and reckless youth." At the same time, his skills with money and bills of exchange led to him being very successful as a lawyer with the explosion of the commercial court.
While not really a politician, Lord Reading was part of a "rainbow coalition" of Irish, Welsh, Catholics and Jews who became part of the political scene when the Liberals came into power in 1909. Lord Reading did not particularly like being a judge, as he found the profession too solitary. He found his true calling working in the U.S. during World War I and as Viceroy of India, where he had frequent one-on-one meetings with Ghandi. Lord Rufus-Isaacs closed be describing his great-grandfather as having an "extraordinary career", yet also having "great fun."
The evening's question period noted that Lord Reading was a spiritual man, if not so religious. Lord Rufus-Isaacs then presented a wonderful gift to the Society, an original Vanity Fair portrait of Lord Reading, a photo of which you can see in the President's message above.
Lord Rufus-Isaacs appeared to be truly touched when named as a lifetime member of the Society, only the fourth person so honoured (joining Pierre Michaud, Rosalie Abella, and Lawrence Poitras). He was warmly thanked by Morton Bessner.
All in all, a truly historic evening that brought the Society's past together with its present, and future.
Registering your Lord Reading CLE credits
Nancy Cleman
If you have not yet registered your CLE credits with the Barreau for the 2011-2013 period, or if you are having difficulty, the following instructions may be helpful.
When you fill out your personalized summary of hours attended, under the section Formations Structurées en milieu de travail you should enter the number 10004319, Lord Reading Law Society under dispensateur. Under Titre you should enter Formations exclusivement reservées aux participants invités if it is not already there; nothing under dates, and under Durée you enter the total number of CLE hours you have from LRLS.
Message for Lord Reading Young Bar Members
The AJBM is looking for Anglophone bloggers for their website. They won the award for "Best Law Library Blog" last year.
If you are interested in participating, please send an e-mail to youngbar@lordreading.org.
Lord Reading Careers Committee Notice
We continue to meet with very qualified students and young lawyers looking for employment. If you are interested in receiving CV's of potential candidates, or if you know of any employment opportunities, please send an e-mail to careers@lordreading.org.
Invitation from the Institute for the Study of Global Antisemitism and Policy
The Institute for the Study of Global Antisemitism and Policy (ISGAP) is pleased to invite members of the Lord Reading Law Society to their seminar series on "Antisemitism in Comparative Perspective" taking place at McGill. The next seminar is entitled "Pragmatic Antisemitism and Anti-Zionism as Civic Religion: The Troubled Case of Belgium" and is to take place on November 27 at 5:30 PM, in Room 738 of the Leacock Building. For more information and details of future seminars in the series, please visit the ISGAP website.
Society Humour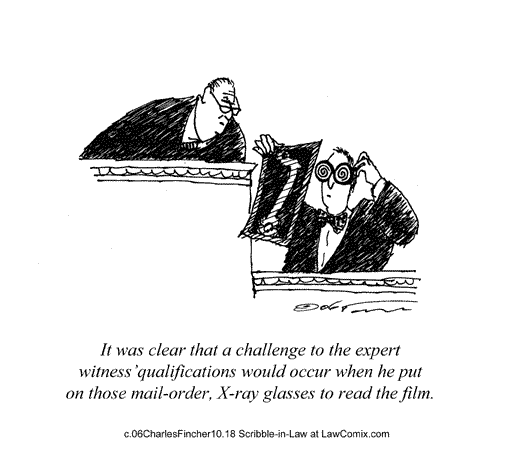 News from the Mishpuchah
Mazel Tov
To Society Past President Casper Bloom on being named a recipient of the Queen's Diamond Jubilee Medal. You can view the certificate from Her Majesty here.