NEWSLETTER: November 2023
Editors – Allen Mendelsohn, Larry Markowitz and Stephanie Perlis
President's Message
Robert Steinman, President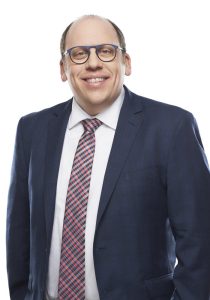 (cliquez ici pour lire le mot du président en français)
I wish to begin this message by offering my condolences to anyone reading this who suffered a loss of any kind as a result of the October 7 terrorist attacks against Israel. I am mindful that all of us, Lord Reading Law Society, members and friends of the Society and, most importantly, the entire Jewish community, are suffering as a result of those heinous attacks.
Our season began on September 27 with an inspiring and heartfelt lecture by Canadian Bar Association immediate past President Me. Steeves Bujold at the Alan B. Gold Advocacy Lecture. In his address, Maître Bujold touched on, among other things, the paramount importance of the support allies can provide to marginalized groups, particularly to the 2SLGBTQ+ community. We all departed that evening with a deep desire to live out the philosophy of Tikkun Olam, to "repair the world" and to work on advancing the Canadian and Jewish ideals we all hold dear.
Only 10 days later, we all awoke to the horrific news of the Hamas invasion of Southern Israel and the resulting atrocities – which continue to this day with the continuing captivity of 240 innocent hostages. We also woke up to the devastating reality that antisemitism remains alive and well, in precisely the hour that the Jewish community requires allies to support us. We know that there exist brave allies who strongly support us, but we so wish that more would step up and be counted.
I want to sincerely thank those Lord Reading members and friends, and indeed friends and allies, who in the last few weeks have stepped up on the legal and advocacy fronts to support the Jewish community and to fight the rising scourge of antisemitism we have witnessed in our beloved home of Montreal. From the community's immediate and concerted effort to assist our suffering brothers and sisters in Israel, to our advocacy work demanding that all levels of government do more to combat antisemitic attacks, I think I speak for the entire executive and membership of the Society when I express unbounded pride at being a part of our resilient community.
With this in mind, we are humbled and honoured to welcome the Consul-General of Israel to Montreal to the Society for the annual Henry Steinberg Memorial Lecture. He will deliver an extremely timely address entitled "Navigating International Law: An Israeli Diplomat's Perspective in Challenging Times." We know, as legal professionals, that this discussion will act as both a resource and an inspiration. Please join us, and feel confident that proper security measures are in place for the evening.
Finally, I want to thank Isaacson, Levy & Steinberg for their generous sponsorship of the evening. You can register for the dinner-meeting here.
Robert Steinman, President 2023-24
The Lord Reading Law Society
president@lordreading.org
A Year in Review: Seeking Equality in a Challenging Environment
Larry Markowitz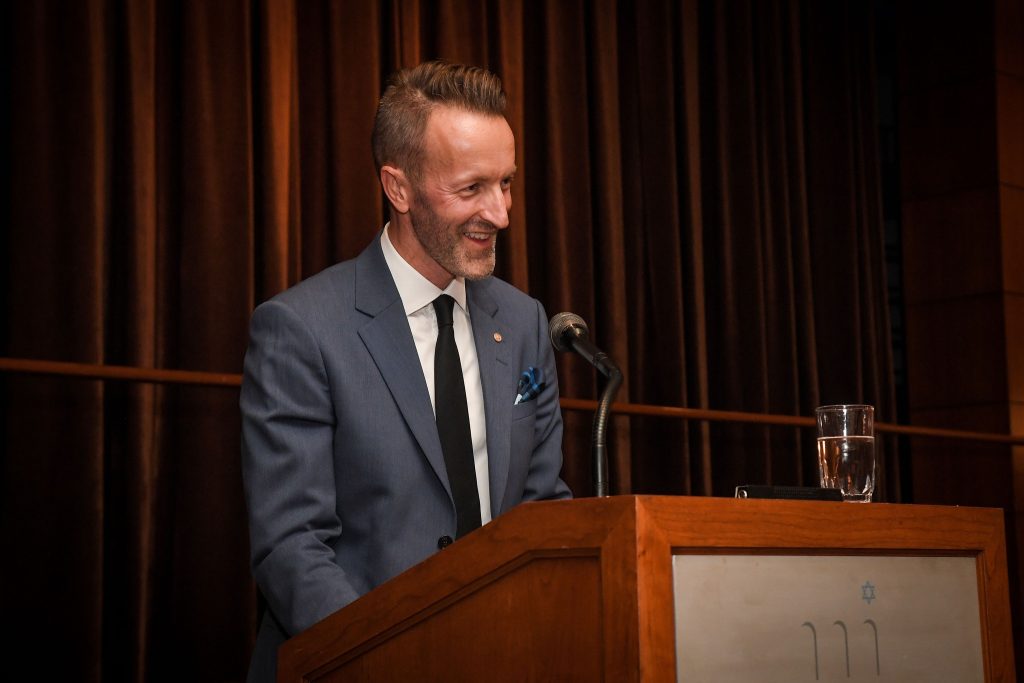 The Lord Reading Law Society launched it 75th anniversary season on September 27, 2023, with our annual Alan B. Gold Advocacy Lecture. On this occasion, the Society was delighted to welcome Steeves Bujold, immediate past President of the Canadian Bar Association (CBA), and Partner and Quebec Region Litigation Practice lead at McCarthy Tétrault LLP. His talk was entitled "A Year in Review: Seeking Equality in a Challenging Environment".
Maître Bujold's tenure as President of the CBA was marked by notable strides towards inclusivity and equality, especially for the 2SLGBTQ+ community. He was the CBA's first president with a same-sex partner and has long been a vocal proponent for inclusion of the 2SLGBTQ+ community in the legal field.
In a deeply personal address to the Society, delivered in a combination of both official languages, Maître Bujold shared with us the shame he had felt growing up as a closeted homosexual and how he summoned the courage at age 25 to express to the world his true self. In doing so, he discovered a community of allies and role models.
He also discovered that as an educated white middle-class male, he was, in a sense, privileged: He cited studies demonstrating that many members of the 2SLGBTQ+ community exist on the margins of society. A significant proportion feel physically unsafe. Suicide and suicide ideation are far more common in this community than in the general population, as is representation of its members among Canada's unhoused population.
Our guest speaker offered valuable insights into the current landscape faced by the 2SLGBTQ+ community, both domestically and internationally.
Unfortunately, past advances have recently been reversed in far too many countries. For instance, earlier this year, Italian authorities made it harder for same-sex couples to be legal parents. In Uganda, President Yoweri Museveni signed one of the world's toughest anti-LGBTQ laws, which includes the death penalty for "aggravated homosexuality."
Closer to home, although the 2SLGBTQ+ community has made strides under Canadian law and jurisprudence, there has been a disconcerting trend towards demonization of members of the community, often to score points with those at a certain extreme of the political spectrum.
In this challenging environment, the focus of Maître Bujold's CBA presidency on equality, especially as it pertains to the 2SLGBTQ+ community, was not just timely, but imperative. His leadership in the CBA was marked by the courage to confront bias and inequality.
Maître Bujold's talk was not just a retrospective of his tenure as CBA president, but a forward-looking exploration of how the legal profession could further contribute to equality and justice for all, especially those from marginalized communities.
As our guest speaker stated so poignantly, the solution is education and allyship with those targeted by discrimination. These are the most effective ways to combat ignorance.
Maître Bujold's visit to Lord Reading was a testament to the Society's 75-year commitment to equality and human rights. As we launched our historic anniversary season, our dais was graced by a speaker who truly embodies the Society's values of equality, inclusivity, and justice. Maître Bujold's riveting talk offered an insightful, honest, and inspiring view into the pursuit of equality.
For a full set of pictures from the event, please click here. 
Lord Reading announces its 75th Anniversary Human Rights Essay Contest!
Neil Hazan, on behalf of the Essay Committee
In celebration of our 75th Anniversary, the Society is thrilled to announce the launch our Human Rights Essay Contest! Embrace the opportunity to express your thoughts and insights in either English or French, crafting an essay of a maximum of 2000 words that addresses your perspective on the most pressing human rights issues relevant to current Canadian law.
Student contributors placing first, second, and third will receive cash prizes of $1,000, $600 and $400, respectively, as well as a Society membership for the year plus free admission to two Society events. A matching set of prizes (same amounts, same free membership and two free admissions) will be awarded to contributors in the professional category.
Full details and submission guidelines are available on the contest page.
The Society helps welcome the Honourable Rosalie Abella to the Jewish Public Library
Allen Mendelsohn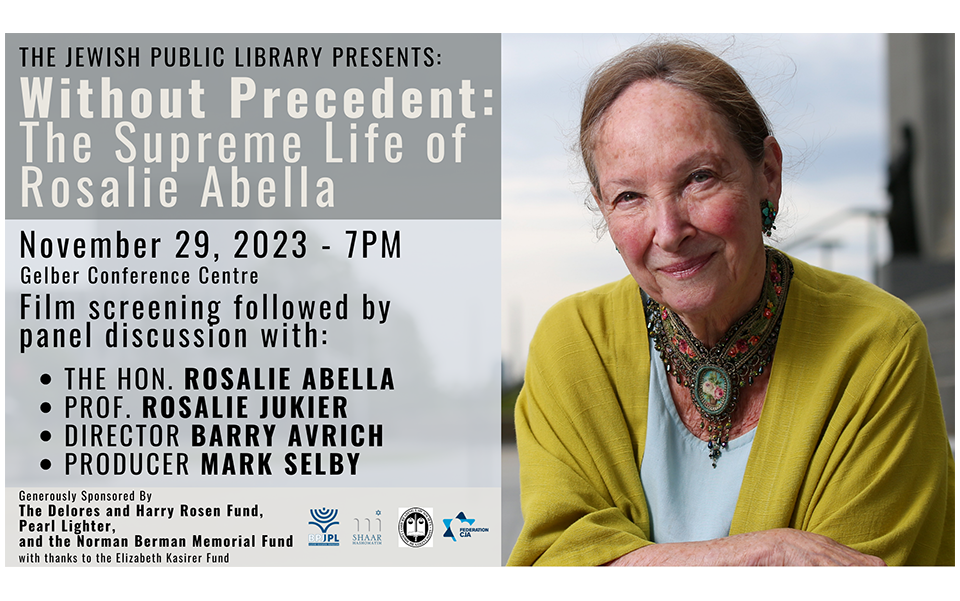 The Society is delighted to help present the Honourable Rosalie Abella at the Jewish Public Library on November 29 at 7:00 P.M. The JPL is hosting a screening of the new film Without Precedent: The Supreme Life of Rosalie Abella, which will be followed by a panel discussion with Justice Abella herself, along with McGill Professor Rosalie Jukier, film director Barry Avrich, and producer Mark Selby. It should be an amazing evening!
More information and tickets for the event are available at the event web page.
Society Humour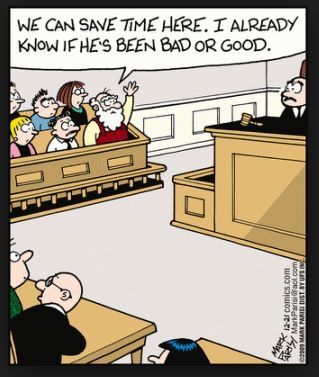 News from the Mishpocha
Sincere Condolences
To Society member Martin Sklar on the loss of his brother, attorney Murray Sklar