NEWSLETTER – March 2009
Ronald H. Levy, President
Allen Mendelsohn & Dorith Toledano, Editor(s)
President's Message
Ronald H. Levy


Dear Friends:
I wanted to update you on some exciting news and to advise that reservations are coming in quickly and we will soon reach our maximum for the April 2nd lecture, featuring Lt. Cmdr. William Kuebler.
The exciting news –
Through the liaison efforts of Ian Solloway, The Lord Reading Law Society has been recognized by the Barreau du Québec as a "dispenseur reconnu de la formation continue obligatoire."  In addition, our April 2nd lecture has been recognized for continuing education purposes and will count as credit towards the minimum number of hours of continuing education that each member of the Bar must participate in. You can read more about this below.
Therefore, I encourage you to send in your reservation and cheque in order to secure your place at the April 2nd lecture, which reservations, I remind you, will be accepted on a "first come, first served" basis. Click here to download the dinner invitation.
I look forward to seeing you on April 2nd and remain,
Yours very truly,
Me Ronald H. Levy,
President
A Letter Regarding Continuing Legal Education
Ian Solloway
Dear Members:
The Society is pleased to announce that we have concluded a partenariat with the Quebec Bar whereby the Lord Reading Law Society will be recognized as an accredited "dispensateur" of Formation Continue Obligatoire / Continuing Legal Education, which will take effect on April 1st, 2009.
As you know by now, all members of the Quebec Bar will be required to do a minimum of 30 hours of accredited Formation Continue Obligatoire during a 2 year period ( April 1, 2009 – March 31, 2011). Lawyers will receive 1 hour of accreditation for each hour of Formation recognized by the Bar. Only programmes / lectures / conferences pre-approved by the Bar will be accredited for Formation Continue purposes.
The Society has obtained pre-approval for our up-coming April 2nd lecture to be given by Lieut.-Cmdr. William C. Kuebler.*
Best wishes to you and your families for a happy and healthy Passover.
Ian M.Solloway
* Please note the Lord Reading Law Society will only be accrediting paid-up members and their guests who attend those of our programmes which have been pre-approved by the Bar for Formation Continue Obligatoire purposes.
The Economy Has a Lot of Explaining To Do
Allen Mendelsohn
A Review of the February 4th Dinner-Meeting

On the occasion of the Annual Students' Dinner, the Society was pleased to welcome Mr. Stephen A. Jarislowsky , whose lecture was entitled "The current economic crisis explained."
The evening started in fine fashion, with Dean Kasirer of McGill's Faculty of Law presenting the Lord Reading Society 60th Anniversary Human Rights Internship Award to its inaugural recipient, Jeannine Plamondon. In addition, the traditional student prizes were presented by Society Executive member Mara Greenstone to Geneviève Normand of Université de Montréal and Nicholas Melling of McGill. The Society was delighted to welcome the Deans of both Law Faculties to the evening.
Mr. Jarislowsky began by describing the economy as the "real terrorism of our age." Peppering his talk with some great anecdotes including one about Prime Minister Trudeau, he delved into certain reasons for the crisis, including falling productivity, overvaluation of houses, and deflation of commodities. He said that "any moron could have seen this coming," but that even he didn't realize how bad it would be.
A lively question period followed, where Mr. Jarislowsky joked that he was giving "a lot of free advice which you guys never do!"
Invitation to a Jewish Moot Court
Allen Mendelsohn
McGill's Faculty of Law is pleased to invite our members to attend the Moot Court of Jewish law event that will be taking place in the Faculty on Tuesday, May 19th at 5 p.m. For the event, the finalists (the Grade 10 students who performed best on the factum) will be presenting the case to a Beit Din of three rabbis. You can find details on the event flyer.
Society Humour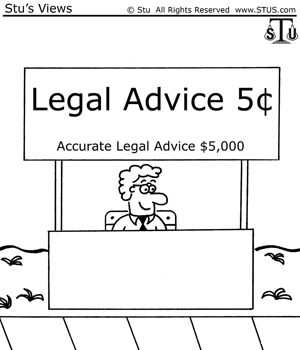 News from the Mishpauchah
Mazel Tov
To Society Member Morton Minc on being named chief judge of Montreal municipal court.
Condolences
To Herbert Madar on the loss of his Father.