NEWSLETTER – January 2021
Editors – Allen Mendelsohn & Larry Markowitz
President's Message
Andrew Kliger, President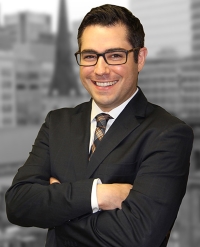 Dear Colleagues, Honourable Judges, and Friends of the Society,
I want to wish everyone a happy, healthy and safe New Year. Although it's become a bit clichéd at this point to suggest that 2021 can only be better than 2020, here's hoping that it will soon become a reality. Although the news cycle over the last year has been largely negative, and for good reason, I sincerely hope that Lord Reading's programming continues to serve as a welcome respite.
At the outset, I wish to address the January 12th incident of vandalism at the Shaar Hashomayim. This was a most heinous anti-Semitic attack, carried out in broad daylight. I was devastated to learn the news.  We stand in solidarity with the entire congregation at the place we proudly call home. As President, I have sent a letter to Rabbi Scheier on behalf of the Society expressing our support and offering any assistance that may be needed.
*****************************************
On October 20, 2020, the Society hosted a lecture by New York Times Supreme Court reporter Adam Liptak, who provided an enthralling and timely account of the US Supreme Court moving further to the right, following the recent passing of Justice Ruth Bader Ginsburg and the subsequent nomination of Amy Coney Barrett to the Court. We were fortunate to have an extensive Q&A period. A theme emerged in which our audience seemed to be frustrated by the US Supreme Court being divided based on political lines, but also grateful that the Canadian Supreme Court, in contrast, strives to simply apply the rule of law, without such a divide.
On December 2, 2020, Lord Reading had its opportunity to present oral arguments before the Superior Court of Quebec in the challenge to Bill 21. Our Past President and distinguished member Theodore Goloff represented the Society before the Court with a combination of skill, dignity and honour. Teddy argued the illegality of Bill 21, its disastrous effects and that it ought to be struck down, notwithstanding the invocation of the notwithstanding clauses of the Quebec and Canadian Charters. He also cited the "Hart Act" of 1832 that emancipated Jews in the Province of Quebec, the effects of which cannot be struck down by Bill 21. We congratulate and thank Teddy for his tremendous efforts. Judge Blanchard stated that he would likely not render judgment until the end of February at the earliest. Here is a photo of Teddy at court just after pleading along with immediate Past President Greg Azancot and Human Rights Chair Frank Schlesinger: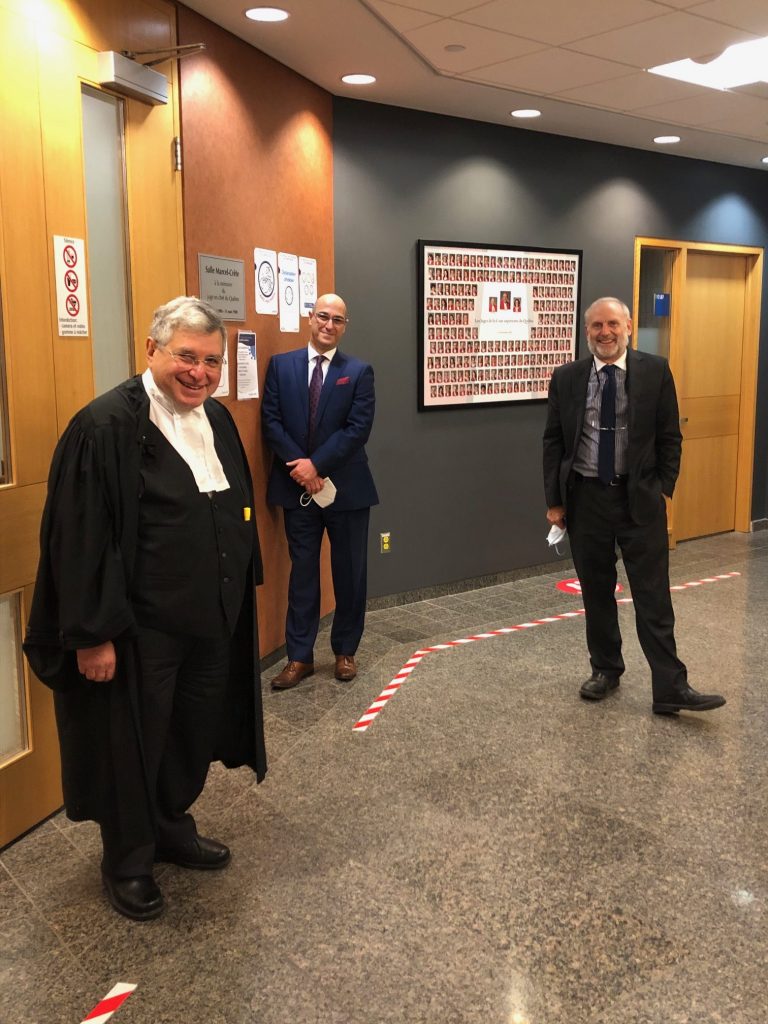 On December 3rd, Mtres Robert Steinman and Heather Michelin presented a lunch time members-only talk Of Plagues and Policy: Immigration Law & COVID-19. This was a highly informative and timely lecture, in which they discussed immigration, work permits, business travel, consular services and quarantine related to Canada, the US and abroad.
On December 9, 2020, Genocide Prevention Day, we were most fortunate to co-present the Inaugural Elie Wiesel Lectureship in Human Rights alongside the Raoul Wallenberg Center for Human Rights, the McGill University Faculty of Law, the University of Montreal Faculty of Law and the International Bar Association's Human Rights Institute. The featured speaker was the Honourable Justice Rosalie Abella of the Supreme Court of Canada, who presented an incredibly moving, memorable and important lecture entitled "Reflections on the Legacy of the Holocaust."
Justice Abella provided a dire warning of our collective failure to prevent genocide since the Holocaust. But she also shared some insight on how we may strengthen international conventions in the field of human rights with laws that are universally shared and enforceable, so that further genocides and mass atrocities may be prevented, and human rights abusers are brought to justice. We encourage anyone who has not seen this most important lecture to view it here: https://youtu.be/23F7W8kWKow
Our next event is this Thursday, January 21st, when we welcome Vancouver-based attorney Robert Laurie, whose practice focuses on commercial business and regulatory issues surrounding cannabis and psychedelic plant medicines. Holder of a Masters (Juris) from the University of Oxford, he sits on the advisory board of the Multidisciplinary Association for Psychedelic Studies (MAPS). His lecture, entitled Psychedelics: An Introduction to the "Rabbit Hole" for Canadian Lawyers, will consider how Canadian law, based on the history and experience of cannabis legalization in Canada, is positioned to meet and address the constitutional and regulatory issues concerning psychedelics. It is sure to be an eye-opener on this unique subject.
On Thursday, February 25, 2021, we are hosting our annual "Student" event, when we will be awarding the annual Lord Reading prizes to top law students from various law faculties in recognition of their academic achievement during the 2019-2020 academic year. Our guest lecturer will be Professor Frederick Schauer, a renowned constitutional law professor at the University of Virginia focusing on the First Amendment to the United States Constitution, which protects freedom of speech, the press, assembly, and the right to petition the Government for a redress of grievances. His talk will cover the current climate in respect of freedom of expression on campuses, online and in public discourse. With President Trump's recent Twitter ban and the rise of "Cancel Culture", we look forward to this intriguing event.
As usual, all of these events will be CLE-accredited by the Barreau du Québec and the Chambre des Notaires.
Please stay tuned for other events for March and beyond, which will be announced soon, including more members-only events.
I look forward to seeing all of you (virtually) on January 21st and I encourage you to register if you have not already done so.
I wish everyone the best of health and that you remain in good spirits during these challenging times.
Andrew Kliger, President
Lord Reading Law Society
The Honourable Justice Rosalie Abella: "Reflections on the Legacy of the Holocaust"
Larry Markowitz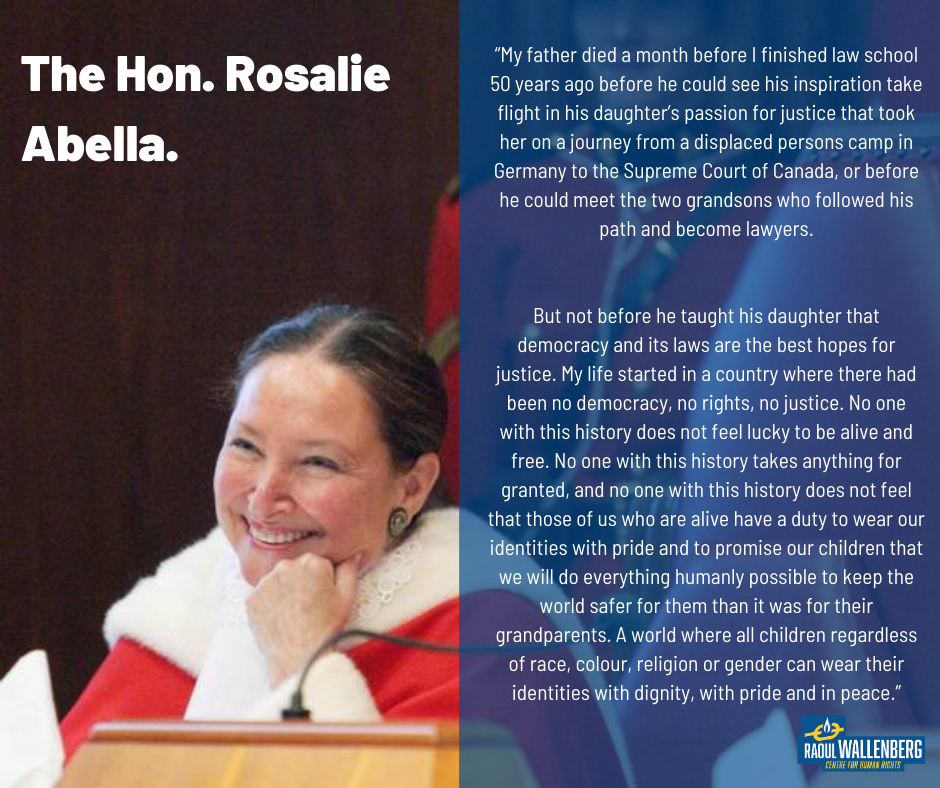 On December 9th, the Lord Reading Law Society had the honour of co-presenting, with The Raoul Wallenberg Centre for Human Rights, the inaugural Elie Wiesel Lecture in Human Rights, featuring Canadian Supreme Court Justice Rosalie Abella, with introductory remarks from former Justice Minister Irwin Cotler.
In a powerful and emotionally charged speech delivered from her chambers at the iconic Supreme Court Building in Ottawa, Madam Justice Abella reflected on her upbringing as the child of Holocaust survivors who imbued her with a great respect for justice and human rights.
She forcefully chastised the international community for failing to live up to the precepts of the Convention on the Prevention and Punishment of the Crime of Genocide and the Universal Declaration of Human Rights—documents produced in the wake of the Second World War—and the promise of justice represented by the Nuremberg trials of Nazi war criminals.
Soon after Nuremberg, prosecutions of war criminals waned. The western world became more concerned with fighting communism than trying war criminals.
In the ensuing three-quarters of a century, the international community has repeatedly failed to prevent human rights abuses.
Recalling that the atrocities of the Nazi era all took place legally under German laws, Madam Justice Abella reminded us that we need more than the rule of law; we need rules of justice to promote core democratic values. And those values extend far beyond simply holding elections. They include the right to due process, freedom of expression and freedom of association.
Why is it that international trade laws under the World Trade Organisation quickly became enforceable, while the same cannot be said for international human rights law?
"Why hasn't the Holocaust created a thirst for enforceable international norms to combat ongoing human rights abuses?" pleaded Justice Abella.
The United Nations was established in the wake of the Holocaust to send the message of "Never Again", yet atrocities have occurred "again and again": Forty million people have died in conflicts since the UN was established. More often than not, the perpetrators of modern-day slaughter, abuse and exploitation have not feared—and have not faced—a Nuremberg-like trial. We need more than words of justice; we need justice itself.
We must see the world from the point of view of the vulnerable. Too many rights go unrecognized; too many people are killed; too many go hungry; and too many have lost hope.
In a deeply personal and emotional conclusion to her talk, Justice Abella implored her audience of jurists to give effect to the words of her late father, who had studied law in Poland, but was never able to join the profession in Canada because he was not a citizen. In an important message imparted upon his daughter, he said that democracy and its laws are the best hope for justice.
"My life started in a country where there had been no democracy, no rights, no justice," said Justice Abella, who was born in a displaced persons camp in Stuttgart, Germany in 1946. "No one with this history does not feel lucky to be alive and free. No one with this history takes anything for granted and no one with this history does not feel that those of us who are alive have a duty to wear our identities with pride and to promise our children that we will do everything humanly possible to keep the world safer for them than it was for their grandparents, a world where all children regardless of race, colour, religion or gender can wear their identities with dignity, with pride and in peace."
**********
If you missed this important speech, we strongly recommend you set aside some time to listen to it. A recording may be found here:  https://youtu.be/23F7W8kWKow
New York Times Supreme Court Reporter Adam Liptak: A Reporter's Reflections
Larry Markowitz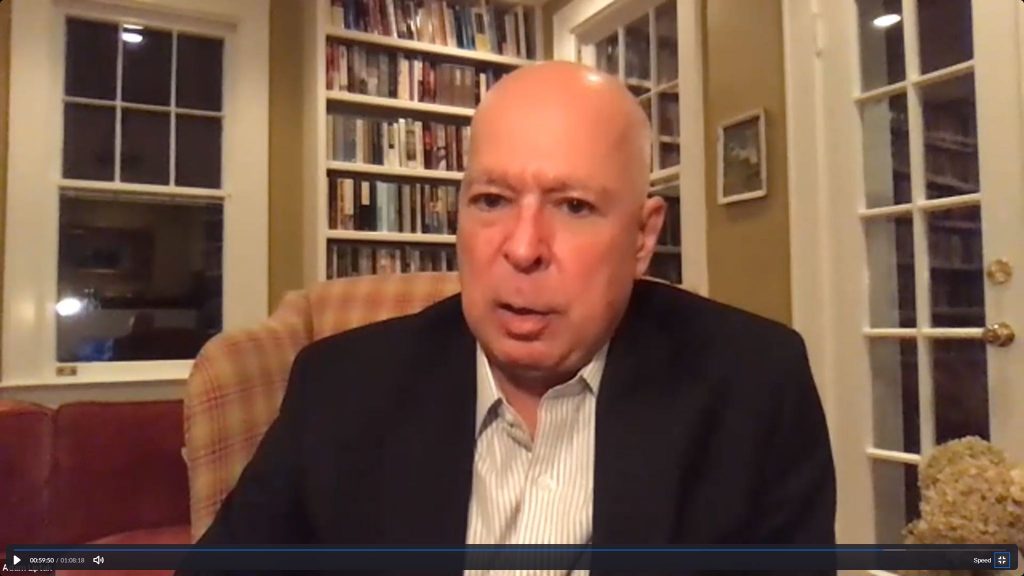 On October 20th, on the occasion of our annual Alan B. Gold Advocacy Lecture, we welcomed Adam Liptak, Supreme Court reporter and columnist for the New York Times, for a captivating talk entitled, "The Roberts Court in the Trump Era: A Reporter's Reflections."
In his timely address, delivered from his home in Washington, DC only days after the passing of esteemed liberal justice Ruth Bader Ginsburg, Mr. Liptak explored a United States Supreme Court in transition and the unusual role of Chief Justice John Roberts as both the Court's leader and its ideological fulcrum.
After being introduced by the late Chief Justice Gold's son, the Honourable Senator Marc Gold, Mr. Liptak provided context on the evolution of the U.S. Supreme Court.
Mr. Liptak lamented a certain lack of diversity on the modern-day Supreme Court, with nearly all current justices being graduates of either Harvard law school or Yale Law School. (Interestingly, the newest justice, Amy Coney Barrett, represents diversity of a sort, as she graduated from the University of Notre Dame).
It is also very common for modern-day justices to have clerked at the Supreme Court.
This lifetime of preparation for the highest court, through choosing the right law school and the seeking the right clerkship, contrasts with the composition of the Supreme Court of previous generations. For instance, the 1954 Court that decided Brown v. Board of Education included a former state governor, two former attorneys general, two former senators and a leading human rights advocate.
Traditionally (and as stipulated in the U.S. Constitution), the judicial branch has been distinct from the executive and legislative branches of government. However, as is evident from the divisive debates surrounding modern-day confirmation hearings, America's highest court has developed a reputation for being political. This tendency risks undermining the confidence of the American public in their system of justice.
Mr. Liptak also lamented the fact that judges on America's top court are appointed for life, in contrast with other advanced nations, which have either age limits (e.g., Canada) or term limits (e.g., Germany). Because of this lifetime tenure and the polarization surrounding the nomination process, sitting justices are incentivized to make a political decision in the timing of their resignation. A liberal justice is almost sure to be replaced by another liberal justice if he or she resigns during a Democratic presidency. Justice Ginsburg chose not to resign during the Obama presidency and did not outlive the Trump presidency (which she probably hadn't anticipated); hence the elevation of conservative appeals court judge Amy Coney Barrett to the highest court by President Trump.
Following our guest's prepared remarks, a question and answer session was ably moderated by Andrew Kliger, presiding over his first event as Society president. Mr. Liptak's in-depth, yet succinct responses to numerous incisive questions from our membership demonstrated his talent for explaining complicated legal notions, as well as the interplay between politics and the law in an increasingly politicized court.
Mr. Liptak clearly appreciated his exchanges with the well-informed members of the Lord Reading Law Society, terming our questions "excellent" and remarking what a pleasure it was for him to be talking to us.
Likewise, it was our pleasure to have the opportunity to exchange with such an astute observer of the U.S. justice system.
A set of photos from the evening can be found on our Facebook page
Society Humour

News from the Mispacha
Mazel Tov
To Society lifetime member Professor Irwin Cotler who, on November 25, 2020 was named by Prime Minister Trudeau as Canada's Special Envoy on Preserving Holocaust Remembrance and Combatting Antisemitism. We could not think of a more fitting person to fill this important role and we wish Professor Cotler much success in his new post.
To Society Board member Elliot Lifson who, on November 27, 2020, was appointed to the Order of Canada by Her Excellency the Right Honourable Julie Payette, Governor General of Canada "for his leadership and mentorship in the apparel industry, his commitment to Canada's economic growth, and for his community involvement." We congratulate Mr. Lifson on this most distinguished honour.
To Society Board member and Young Bar chair Elissa Brock  on being named a finalist at the Jeune Barreau de Montréal's annual "Leaders of Tomorrow" gala, in the Corporate Law category.
Condolences
To Society member Jonathan Foldiak on the passing of his mother, Marietta Foldiak.