NEWSLETTER: April-May 2021
Editors – Allen Mendelsohn & Larry Markowitz
President's Message
Andrew Kliger, President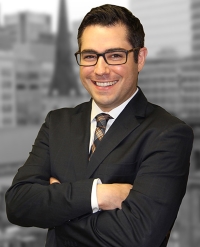 Dear Colleagues, Honourable Judges, and Friends of the Society,
These are busy times at Lord Reading and I've got a lot to talk about!
On April 6th, the Society hosted a captivating noontime lecture by Michal Cotler-Wunsh who joined us live from Jerusalem. Michal's talk, entitled "Legislating in Israel: Language and Equality Rights and the Need for ICC Reform," covered a dizzying array of legislative and political initiatives undertaken by Michal in just a short nine months in the Knesset. You can read more about the talk in Larry's article further down in this newsletter.
During the same event, the Society was honoured to welcome our long-time friend and newly appointed Chair of the Canada-Israel Inter-Parliamentary Friendship Group, Anthony Housefather MP, who introduced Michal. Anthony is currently focusing a lot of his time with international parliamentarians combatting online hate, an incredibly important topic of our time and of great interest to Lord Reading. We hope to have Anthony return to us soon to address this topic in greater detail.
The April 6th lecture continued our longstanding tradition of hosting an event in conjunction with the Israeli consulate in Montreal, and we are grateful to David Levy, Consul General of Israel for Quebec and the Atlantic Provinces, for joining our event and thanking the guest speaker.
Liberation 75
I thought it was important to inform our members and friends of Liberation 75, the world's largest international event to mark the 75th anniversary of liberation from the Holocaust, taking place from May 4th to 9th. Featured speakers include past speakers and friends of the Society, such as Justice Rosalie Abella, Professor Payam Akhavan, and Professor Irwin Cotler, O.C. I encourage you to click the link and find out more.
Upcoming Events
1. Young Bar Committee – Alternative Careers in Law
Next week, on May 5th, the Young Bar Committee of Lord Reading is hosting a unique panel discussion entitled "Le droit mène à tout: Alternative Careers in Law," which is open to everyone, and free for everyone except for senior non-members. The panel will feature three lawyers who have forged unique career paths outside the traditional law firm. The outstanding lineup of speakers is:
Bonnie Frank, Vice-President, Enterprise Risk and Crisis Management, at the Public Sector Pension Investment Board (PSP Investments),
Catherine McKenzie, litigator turned best-selling author, and
Larry Markowitz, corporate lawyer turned entrepreneur and Senior Advisor at NATIONAL, Canada's largest public relations firm (and Past President of the Society).
We are looking forward to a dynamic discussion with the speakers and encourage questions from the audience. Back by popular demand, we will be commencing the event at 5:30 pm with breakout rooms on Zoom, so that our members, guests and panelists will have a chance to speak informally and share a virtual cocktail prior to the event itself at 6:00 pm. You can sign up here.
2. Hillel Neuer returns!
Lord Reading is excited to announce the long-overdue return of a giant in the world of international human rights, Hillel Neuer, Executive Director of UN Watch, will present a talk entitled "On the Road to Durban IV: The UN, Human Rights and Israel," which will take place May 26th at 12:00 noon. UN Watch is a human rights NGO based in Geneva, Switzerland. Hillel advocates tirelessly against discrimination, torture and injustice. A graduate of McGill's Faculty of Law, he is especially known for taking the UN to task; raising awareness of the UN's double-standard when it comes to Israel, as well as its hypocrisy for having some of the world's worst human rights abusers sit on the Human Rights Council.  We look forward to hosting this renowned speaker and invite you to learn more about Hillel and UN Watch on their website. Registration will open soon.
We would like to sincerely thank Robinson Sheppard Shapiro for their generous sponsorship of this event.
As usual, all of these events will be CLE-accredited by the Barreau du Québec and the Chambre des Notaires.
Bill 21
On Tuesday, April 20, 2021, the Honorable Marc-André Blanchard rendered his judgment in the Bill 21 ("Charte de la Laicité") file. In his 242 page judgment, Justice Blanchard deplored many aspects of the law, ruling that the law violates fundamental freedoms, legal rights and equality rights enshrined in the Canadian Charter (sections 2 and 7 to 15), and that these violations cannot be saved by s. 1 of the Charter. However, the law was held to be mostly valid, based on its use of the Notwithstanding Clause (s. 33 of the Charter).
Though we are disappointed with the outcome, the Society owes a great debt of gratitude to its Past President Ted Goloff, for his excellence and dedication in preparing for and pleading Lord Reading's challenge of this law. We are proud of his work and the team that lent assistance. Lord Reading is currently considering its options vis-à-vis an appeal.
Barreau Elections
Don't forget to vote! Voting in the Barreau du Québec elections begins on May 4th and will continue through May 14th. You can find more information on the Barreau's election website.
I would like to thank the two candidates for Bâtonnier(ère), Me Antoine Aylwin and Me Catherine Claveau for graciously taking the time to speak with our members last week. We wish them the best of luck in the election.
I would also like to thank Me Julie Mousseau and Me Jonathan Pierre-Étienne for their letters to our members in connection with their candidacies for the First Councilor position at the Montreal Bar; we appreciate that they took they time to write to us. I congratulate Me Mousseau on her victory, and look forward to working with her and the entire Montreal Bar Council.
*****
Well that about wraps it up! I look forward to seeing all of you (virtually) on May 5th at 5:30 pm and on May 26th (exceptionally) at 12:00 noon and I encourage you to register for the May 5th event if you have not already done so which you can do here.
I wish everyone the best of health, and hope that you remain in good spirits during these challenging times.
Andrew Kliger, President
Lord Reading Law Society
MK Michal Cotler-Wunsh: Legislating in Israel
Larry Markowitz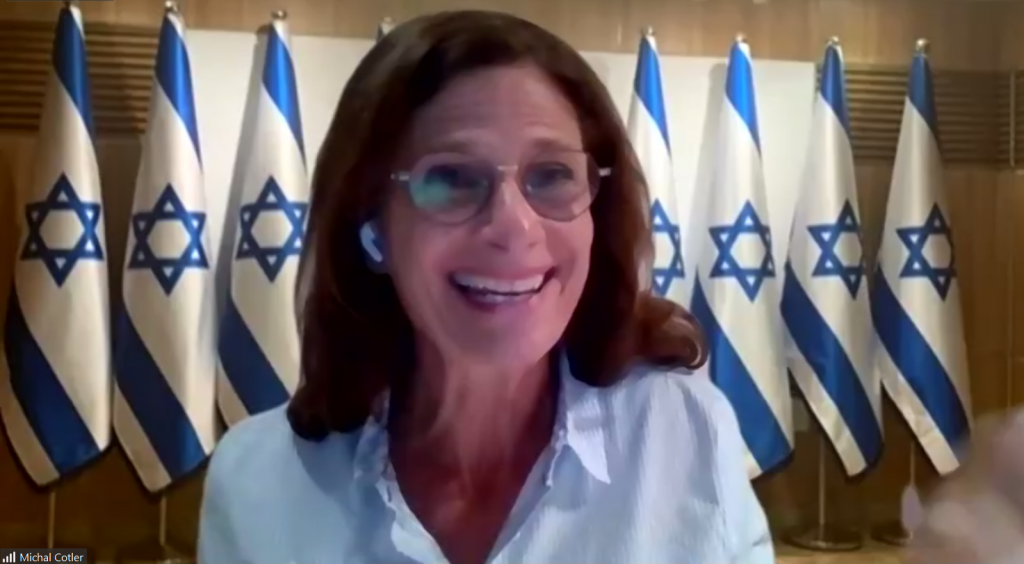 At a special lunch hour meeting of the Society held on April 6th, Lord Reading was pleased to welcome Member of the Knesset Michal Cotler Wunsh – live from Israel!
A graduate of the law faculties of both Hebrew University and McGill, Ms. Cotler-Wunsh covered a range of topics relating to human rights and Israeli politics in rapid succession.
Declaration of Independence must be anchored in law
She began by pointing out that Israel is a young state whose basic law has yet to be codified in constitutional form.
The 1948 Declaration of Independence must be "anchored in law" to protect the rights of all citizens, she said. A vital discussion that must precede any such exercise surrounds the question: What does it mean for the State of Israel to be Jewish and democratic? This matter has yet to be adequately addressed because, since the State's founding, Israeli leadership has been focused on the "urgent" to the detriment of long-term planning.
However, in contrast to the perception we may have of Israeli politics being polarized, Ms. Cotler-Wunsh argued that, "Eighty per cent of Israelis agree on 80 per cent of the issues, 80 per cent of the time." There is hope.
International Criminal Court
MK Cotler-Wunsh then briefed us on the recent International Criminal Court announcement that its jurisdiction extends to the Palestinian territories.
In her view, this decision runs counter to the ICC's foundational principles. The ICC was not designed to hear cases emanating from a country like Israel, with its renowned legal system and sophisticated judiciary. Rather, the ICC is meant to be the court of last resort for war crimes.
Israel asserts that the Israel Defense Forces prosecution is capable of investigating actions by the military, thus obviating the need for the international court to intervene.
To assume jurisdiction in this case, the ICC performed "legal acrobatics", meaning it violated its chief principle of complementarity, which holds that the court should respect the investigations conducted by states and not seek to repeat or supersede such probes, ignoring fundamental principles of international law.
Going forward, our guest speaker urged Israel to employ the lingua franca of international human rights in order to make its messaging more accessible.
Online Hate
Ms. Cotler-Wunsh then touched on her efforts, in conjunction with parliamentarians around the world, to combat online anti-Semitism. She characterized this phenomenon as a global problem that requires a global response.
Part of the solution is to educate the public, rather than simply censoring them, in her view. The other important point is to define what constitutes online anti-Jewish hate in the first place. The International Holocaust Remembrance Alliance (IHRA) Working Definition of Antisemitism, a consensus definition arrived at over the past 20 years, is Ms. Cotler-Wunch's preferred tool for this purpose.
The Abraham Accords
Finally, our guest speaker spoke in hopeful terms about the recently signed Abraham Accords, under which Israel normalized relations with the United Arab Emirates and Bahrain, subsequently adding normalization with Sudan and Morocco to the list. She cited examples of numerous Israelis travelling to the UAE, at least half of whom have been Israeli Arabs. This, she said, suggests that the accords will lead to a warm peace between peoples and not merely a formal peace on paper between governments.
Ms. Cotler-Wunch shared with us a positive anecdote in support of this view, describing how she hosted a group of influencers from the UAE for a Hanukkah celebration, terming the event a "fundamental moment of understanding".
* * *
Friend of the Society Anthony Housefather, Member of Parliament and Chair of the Canada-Israel Inter-Parliamentary Friendship Group, introduced our guest speaker, describing their collaborative efforts to combat online anti-Semitism, among other shared projects.
She was thanked by David Levy, Consul General of Israel for Quebec and the Atlantic Provinces—also a long-time friend of Lord Reading.
This special mid-day session of the Society was thought-provoking and informative, and left us with a positive outlook for the future of Israel—both domestically and in its relations with neighbours both near and far.
Additional photos from the event can be found on our Facebook page
The Lord Reading Career Committee Has Been Relaunched
After a brief hiatus, the Lord Reading Career Committee is back!
All Society members and friends are encouraged to share paid employment opportunities for summer student or stagiaire positions with careers@lordreading.org. If you are a student looking for opportunities, we also encourage you to contact us.
We look forward to sharing more updates with you in the coming months.
Anna Bronshteyn, Chair
The Lord Reading Career Committee
Society Humour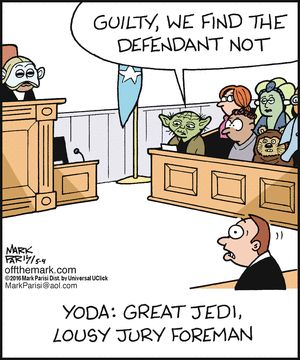 News from the Mispocha
Mazel Tov
To former member of Lord Reading the Honourable Justice Peter Kalichman on being named to the Quebec Court of Appeal
Sincere Condolences
To Society Board member Robert Rapp, his wife Lisa and their entire family on the sudden passing of his father-in-law Dr. Samuel Israelovitch