NEWSLETTER – March 2021
Editors – Allen Mendelsohn & Larry Markowitz
President's Message
Andrew Kliger, President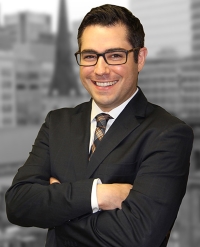 Dear Colleagues, Honourable Judges, and Friends of the Society,
With spring around the corner and vaccines on the horizon, I expect that our collective mood is on the cusp of brightening.
We kicked off 2021 with an exciting lecture from international lawyer Robert Laurie, whose talk Psychedelics: An Introduction to the 'Rabbit Hole' for Canadian Lawyers educated our audience about the evolving regulatory framework and legal obstacles surrounding psychedelic substances. He was accompanied by Trevor Millar, Chairman of the Multidisciplinary Association of Psychedelic Studies (MAPS) Canada. The two speakers explained their advocacy for the legalization of certain substances that can assist those with mental health issues. Their talk also explored constitutional law arguments regarding these substances, including freedom of conscience and religion. We hope all who attended enjoyed this novel lecture. You can read more about it in Larry's article below.
As many of our members likely heard, there was also some unfortunate news since our last update. On January 13th, Lord Reading's physical home, the Shaar Hashomayim synagogue, was attacked by a vandal who painted swastikas on its doors and tried to set the building on fire with a gasoline cannister. Thankfully, the synagogue's security team quickly sprang into action and the police arrested the perpetrator before he could inflict further damage. Lord Reading condemns this cowardly act of hate in the strongest language possible and stands in solidarity with the Shaar Hashomayim congregation and staff. A letter of support was sent to Rabbi Scheier.
I am pleased to report some exciting events coming up at Lord Reading, so please mark your calendars.
On Wednesday, March 10th, we will be holding our Annual Student Event, at which we are delighted to welcome guest speaker Professor Frederick Schauer, the David and Mary Harrison Distinguished Professor of Law of the University of Virginia. Professor Schauer was previously, for nineteen years, the Frank Stanton Professor of the First Amendment at Harvard University. His talk will document the shift in the politics of freedom of expression and will offer a series of hypotheses about freedom of expression and modern politics that might explain why long-familiar alignments surrounding freedom of expression have shifted dramatically in recent years. Professor Martine Valois of the University of Montreal and Dean Robert Leckey of McGill University will also be making remarks.
During this event, we will hand out our annual student awards to recipients from various Quebec and Ontario law schools, beginning at 6:00 pm. Prior to that hour, we will organize "break-out rooms" on Zoom starting at 5:30pm, where we will meet and greet students from various law schools. We encourage all of you to join at 5:30 to make this a special night for the students! You can register for the evening here.
On Tuesday, April 6th (exceptionally at 12:00 noon), Lord Reading is pleased to welcome Member of the Knesset Michal Cotler Wunsh—live from Israel! A graduate of the law faculties of both Hebrew University and McGill, Ms. Cotler-Wunsh is an engaging speaker, just like her father, Irwin. More details about this event will be made available soon.
In the coming days, we will be announcing an event in late March or early April, to be hosted by the Young Bar Committee, but open to all Lord Reading members, so please stay tuned. It will feature a panel of lawyers who have pursued unique career paths and who work outside the conventional firms.
As usual, all of these events will be CLE-accredited by the Barreau du Québec and the Chambre des Notaires.
Please stay tuned for still more events, including more members-only events.
I look forward to seeing all of you (virtually) on March 10th and I encourage you to register if you have not already done so.
I wish everyone the best of health and that you remain in good spirits during these challenging times.
Andrew Kliger, President
Lord Reading Law Society
Lord Reading Takes a Psychedelic Trip!
Larry Markowitz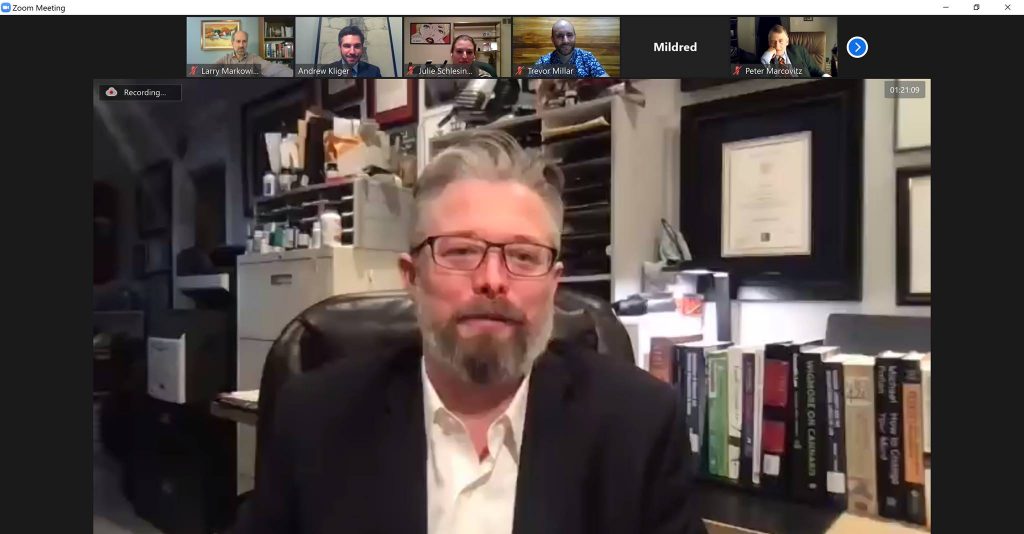 It is not often a Lord Reading event begins with a disclaimer. However, on January 21st, Society President Andrew Kliger kicked off the evening by warning us, "Some of the compounds and substances to be discussed this evening are prohibited in Canada, and Lord Reading is not endorsing the use of any substances that are currently illegal."
On that unusual note, we opened 2021 with a discussion on psychedelics, a subset of hallucinogenic drugs whose primary effect is to trigger non-ordinary states of consciousness (known as psychedelic experiences or "trips").
We welcomed West Coast attorney Robert Laurie, whose practice focuses on commercial business and regulatory issues surrounding cannabis and psychedelic plant medicines. Mr. Laurie addressed us via Zoom from his home on Vancouver Island and was accompanied by his Vancouver-based colleague Trevor Millar, Chair of the Board of the Multidisciplinary Association of Psychedelic Studies (MAPS) Canada, and the recently appointed Chief Psychedelic Officer of NeonMind Biosciences Inc.
Drawing on the history and experience of cannabis legalization in Canada, Mr. Laurie's lecture, entitled Psychedelics: An Introduction to the "Rabbit Hole" for Canadian Lawyers, discussed how Canadian Law is positioned to address the constitutional and regulatory issues surrounding psychedelics.
Mr. Laurie recounted his advocacy efforts in support of the legalization of hallucinogenic substances which he claims can assist those grappling with mental health issues. His presentation also explored human rights-based arguments favouring the use of psychedelics, including several founded on freedom of conscience and religion.
The talk was followed by a Question-and-Answer session, ably moderated by our President. Mr. Laurie was thanked by Society member Julie Schlesinger-Svarc.
The evening of January 21st was a true eye-opener on a unique subject that broke new ground for the Society!
**********
A set of photos from the evening can be found on our Facebook page
The Society Mourns A Past President
Allen Mendelsohn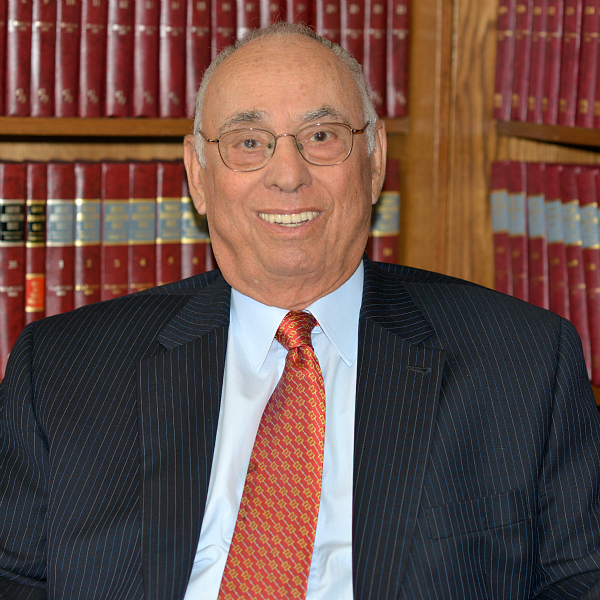 The Society was devastated to hear the very sad news that our beloved colleague and devoted Past President, Julian Kolter, Q.C., passed away on February 11th. Julian was a founder of the firm Phillips Friedman Kotler, where he had a long and distinguished career.
Julian served as Lord Reading's President during the 1982-1983 season. His term as President was marked by the historic event of the Society being officially recognized by the Barreau du Québec as an institutional organization, allowing Julian to officially participate in the planning and execution of the annual Barreau convention, and official involvement in other Barreau matters.
Julian was also a dear friend to many of us. The Society extends our deepest condolences to his wife, Elaine, and to his entire family.
Society Humour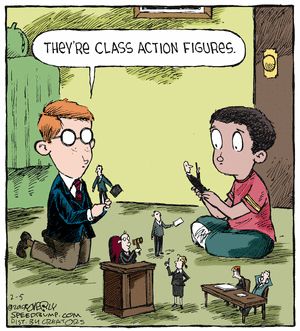 News from the Mispocha
Mazel Tov
We congratulate and wish a hearty mazel tov to Society Board member Judge Morton Minc on becoming a first-time grandfather. His daughter, Dr. Samantha Minc Steele recently gave birth to a baby girl, Sarah.