NEWSLETTER – March 2017
Larry Markowitz, President
Allen Mendelsohn and Doree Levine, Editor(s)
President's Message
Larry Markowitz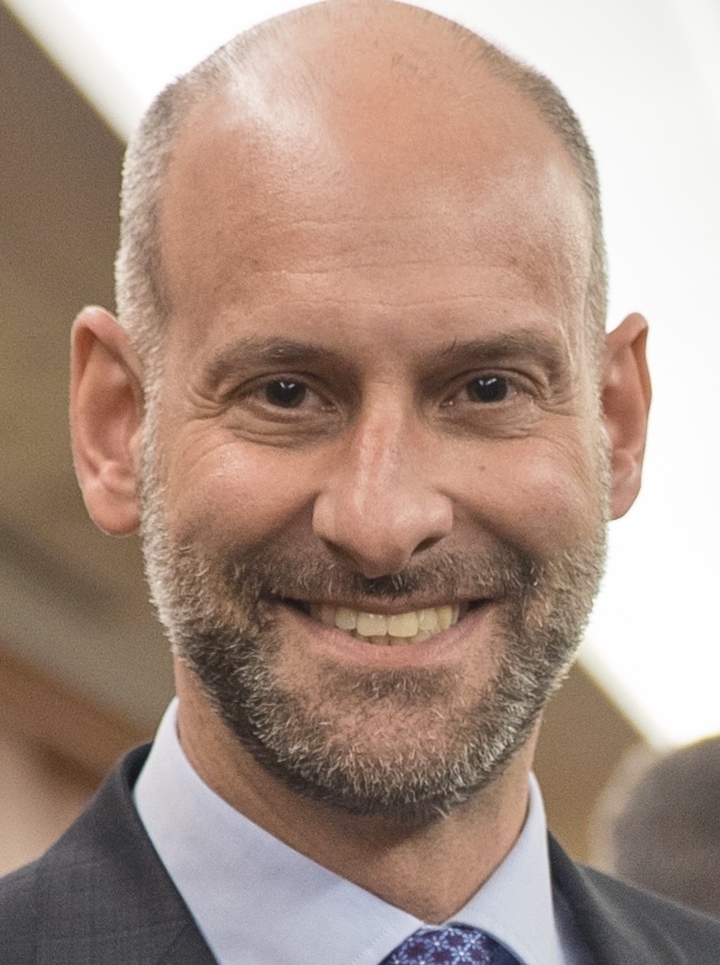 Greetings and welcome home to those of you who were spending time in warmer climes – be it for a brief school break visit or because you were practising law (or were enjoying your retirement from the law) down South. Welcome home! You've arrived back in town just in time for an exciting series of events at Lord Reading. 
Following our attendance-record-setting 2017 student dinner, featuring lawyer, businessman and media  personality Mitch Garber, and our first Members-only CLE breakfast of the year, featuring government-relations expert and lawyer Adam Daifallah's analysis of the new Trump administration, the next event on our agenda is the annual Justice Henry Steinberg Memorial Dinner, at which Fred Headon, Past President of the Canadian Bar Association, who will answer the question: "The Practice of Law in 2025: Will you be replaced by a robot?"
Then on April 25th, we will host Canada's 20th prime minister, the Right Honourable Jean Chrétien, for what promises to be a memorable evening in the annals of the Society.  That will be followed by our annual human rights dinner later in the spring.
In addition, plans are already well underway for a couple of very exciting dinners following our return from summer break. Stay tuned!
*****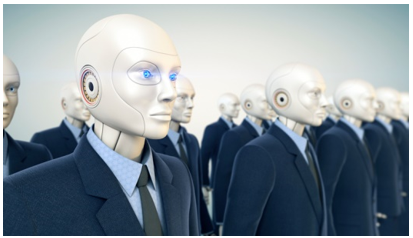 "The Practice of Law in 2025: Will you be replaced by a robot?"
On March 23rd, Canadian Bar Association Past President Fred Headon, who also chairs the CBA's Legal Futures Initiative, will offer us insights on the changing legal marketplace, the value that lawyers will bring to the future of legal services in Canada and the opportunities that can arise from lawyers choosing to adapt to change. He will address the advent of artificial intelligence, alternative billing arrangements and other cutting-edge developments in the practice of law.
Some of you might fear you'll be replaced by a robot, but I would suggest that the use of technology will allow lawyers to focus on more interesting and higher value-added work, thus serving clients better, cutting clients' legal bills and allowing lawyers to focus on framing the issues, as opposed to getting caught up in the weeds of case law and due diligence.
Fred is an engaging speaker who is often invited to share his insights at venues across Canada and internationally, including at Harvard Law School.  Fred is a respected member of the legal community, cited in 2015 by Canadian Lawyer magazine as one of "Canada's 25 most influential lawyers". 
The Henry Steinberg Lecture's focus on the future of our profession will be of special interest to law students and young lawyers embarking on their careers, while surely also piquing the curiosity of our more experienced consoeurs and confrères.
*****
Les Prix du Ministre de la justice du Québec – Association de droit Lord Reading
Also at our March 23rd dinner, Quebec Justice Minister Stéphanie Vallée we will be in attendance and will present the inaugural Prix du Ministre de la justice – Lord Reading Awards, comprised of two prizes:
1. One $1,000 scholarship (funded by the Justice Minister) to be presented to a law student who is active in Lord Reading and who best promotes and advances the objects of the Society and the mission of the Ministère de la Justice (access to justice, promotion of human rights, etc.)
2. One non-monetary award (the "Access to Justice Award") to be awarded to a Society Member who advances the cause of Access to Justice in Quebec during the year preceding the presentation of the award, while promoting and advancing the objects of the Society and the mission of the Ministère de la Justice.
These Awards will be chosen according to the foregoing criteria by a committee of the Board of the Society appointed by the President.
It is the intention of the Society and the Minister of Justice that henceforth, these prizes will be presented annually at a Lord Reading dinner by Quebec's Minister of Justice. The establishment of the Prix du Ministre de la justice du Québec – Association de droit Lord Reading by the Minister of Justice signifies the important place that the Jewish Bar occupies in the legal community of Quebec. Of this, we should be proud.
*****
Please register for our March 23rd dinner-event at the link on the left of this page. For early bird rates, you must register by tomorrow – Friday, March 17th.
We look forward to seeing you on the 23rd!
The Disunited States of Trump: CLE Breakfast Recap
Larry Markowitz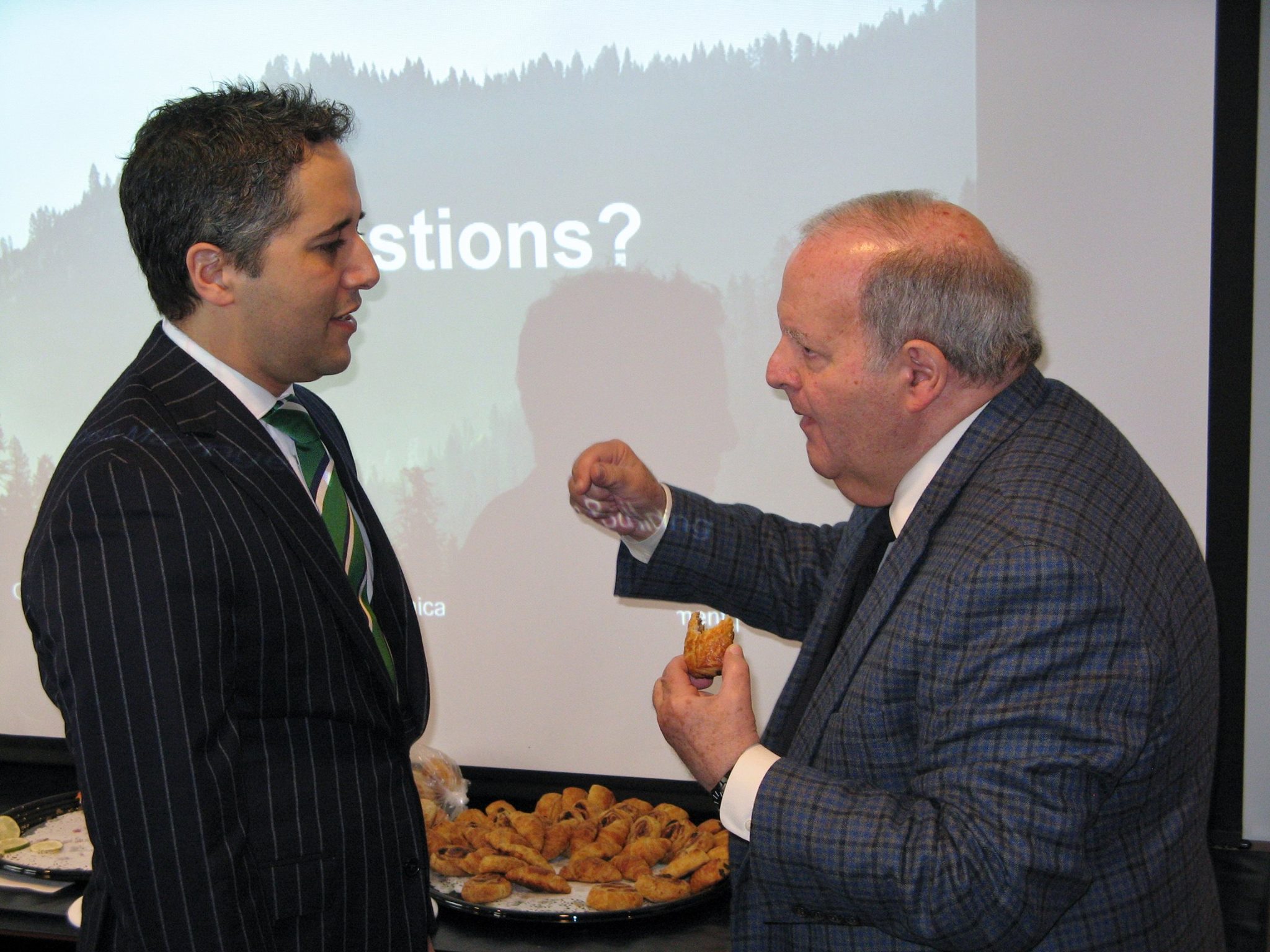 Speaker Adam Daifallah and Elliot Lifson talk Trump over breakfast. For a full set of photos from the event, check out the Facebook Photo Album.
On March 2nd, the Lord Reading Law Society held its second-ever Members-only CLE Breakfast in the 46th floor offices of Robinson Sheppard Shapiro.
We were pleased to welcome special guest speaker Adam Daifallah, co-founder of public affairs firm HATLEY Strategy Advisors. His talk was entitled "The Disunited States of Trump: Donald Trump's unlikely rise to power and what the legal world can expect".
The capacity audience listened intently as Adam examined President Trump's plans for domestic and foreign policy, the impact of his election on Canada-US relations, the future of the US Supreme Court and the legal framework for a possible renegotiation of NAFTA.
This was not a partisan talk by any means. Rather, our members were treated to a dispassionate analysis of the rise of President Trump and predictions – or at least well-informed guesses – as to what the new administration's moves might be in the coming years. These predictions included specifically those related to issues of concern to Canadians (and to clients of Canadian lawyers). Adam also offered us specific insight as to which administration officials can be expected to hold the most sway over policy in various areas of concern to our clients.
As President Trump himself would say, Adam's presentation was "tremendous"! In fact, it was yuuuge!  The best Lord Reading event ever.  It's true. Some very smart people told us so…
Lawyer and entrepreneur: Can you be both? – Recap of the Annual Student Dinner
Allen Mendelsohn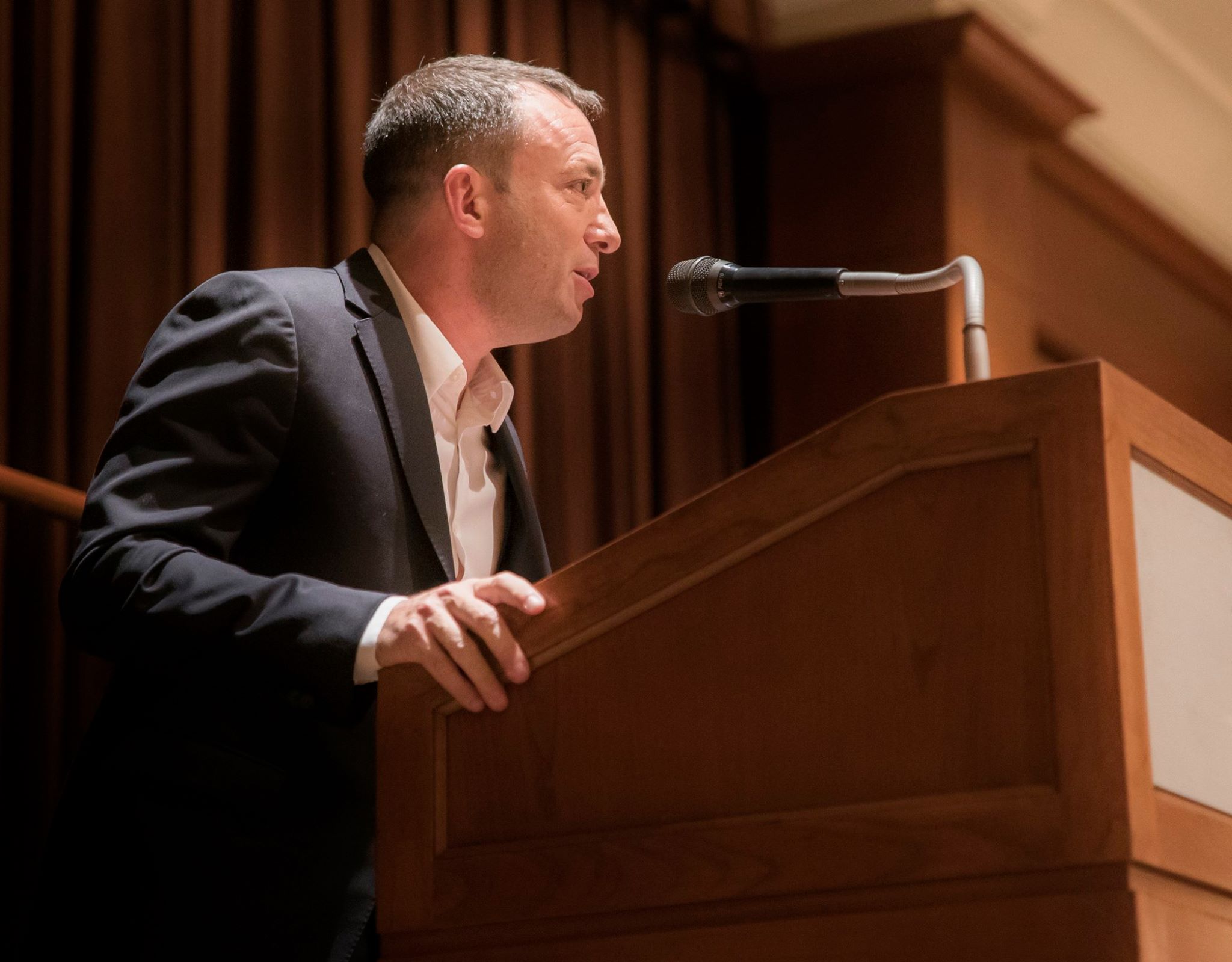 Mitch Garber answers the titular question. For a full set of photos from the event, check out the Facebook Photo Album.
On January 25, 2017, the Society was pleased to welcome lawyer, entrepreneur, philanthropist, community leader and media personality Mitch Garber as guest speaker at our annual student dinner. A record crowd of over 250 people listened to a compelling presentation entitled "Lawyer and Entrepreneur: Can you be both?" during which Maître Garber, who is Chairman of the Cirque Du Soleil and CEO of Caesars Acquisition Company, shared anecdotes and advice from his unique career.
The evening began on a high note, as President Larry Markowitz and the Society's Young Bar Chairs presented the annual student awards to law students from the various faculties in the presence of several law faculty Deans. We would like to congratulate the winners:
McGill University: Gregory Sheppard, for highest Standing in First Year in the Faculty of Law
Université de Montréal: Se-Line Duong, pour excellence en Droit constitutionnelle I et II à la Faculté
Université de Sherbooke : Clémence Therrien, pour excellence en anglais juridique à la Faculté
Our President was also proud to announce that next year, the Society will also honour a law student from UQAM who receives the highest grade in Criminal Law in that Faculty.
After being introduced by Larry Markowitz, Mitch Garber took to the podium and had the crowd eating from his hand from the outset, by telling us he "owed something to Lord Reading". He then threw a wrench into the proceedings by saying he wasn't an entrepreneur, he felt he was more of an executive. Could the question be answered?
To attempt to do so, Me Garber recounted stories of three lawyers who have shown various entrepreneurial qualities, and described what we can learn from them. Sidney Horn for example has a talent for advising clients on all matters of both law and business which makes him truly "entrepreneurial".
Me Garber then spoke directly to the young lawyers and students in attendance  (after good-naturedly including 93-year-old Manny Schacter in that group). He offered some sage advice, specifically that lawyers should know their clients' businesses as well or better than the clients. He told us "don't underestimate the power of luck", while at the same time reminding us of the value of hard work, which is even more important. 
A lively question period followed. We learned that Me Garber has no interest in politics, but has a real interest in the return of the Montreal Expos, should the right people be involved.
Truly an enlightening and entertaining evening for both the huge crowd of students and everyone else. Lawyer and entrepreneur – no doubt you can be both!
Manny Shacter's History of the Society
Allen Mendelsohn
At a Board of Directors' meeting last fall, in the presence of Supreme Court Justice Michael J. Moldaver, at the request of Society president Larry Markowitz, we were was honoured to have Lord Reading Past President Manny Schacter (1967-68) recount the history of the Society. You can watch the video below. We apologize for the sound quality; please note the sound improves two minutes or so into the presentation as the videographer moved closer to the speaker. You can also read Manny's remarks here. Truly a history lesson we should all learn. 
Upcoming CLE Events of Community Interest
Allen Mendelsohn
AEJD's Art Restitution Event at the MMFA
The Association des étudiants juifs en droit de l'Université de Montréal (AEJD) invites you to an evening at the Museum, focused on the restitution of stolen art from Jewish Families during World War II. Taking place Wednesday, March 29, 2017 at the Montreal Museum of Fine Arts, the event will include a cocktail reception and a panel discussion, and is open to the community at large. The panel will consist of the following speakers:
Clarence Epstein, Senior Director, Urban and Cultural Affairs, Concordia University and Director, Max Stern Art Restitution Project.
François Le Moine, Lawyer, Sarrazin Plourde and Lecturer on art law at Université de Montréal.
Stephane and Édith Jorisch, family who successfully retrieved stolen art from Austria, will share their personal experiences.
Please note that this event will be accredited for 1.5 hours of Continuing Legal Education (CLE).
The Lord Reading Law Society is proud to support this event, and we encourage our members and friends, both young and young at heart, to attend.
More information can be found on the AEJD Facebook page. For tickets and information on sponsorship opportunities, please contact AEJD Co-Presidents Sarah Ettedgui and Stephanie Perlis at aejd.udem@gmail.com. Tickets are also available online. 
JCF Professional Development Seminar – Save the Date!
The Jewish Community Foundation of Montreal's annual Professional Development Seminar for legal and accounting professionals will take place Wednesday, June 14 from 7:30-10:00 AM at the Gelber Conference Center. More details to come!
Legal Negotiating Humour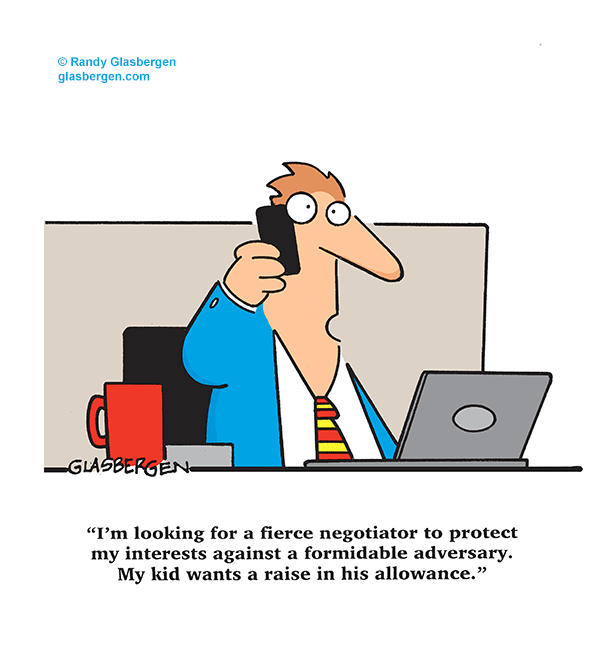 News from the Mishpuchah
Yasher Koach
Thanks to Danny Kaufer for his generous donation to the Society
Condolences
To Society Membership Chair and Board Member Hershie Frankel on the loss of his mother Sarah